NEW Adult ESL Resources from LINCS – Free!
June 20, 2016
NEW Adult ESL Resources from LINCS – Free!
Patsy Egan, Director
Attention teachers of ESL, and anyone with non-native speakers of English in your programs! LINCS has recently released a series of resources to advance instructional quality and to better serve English learners in adult basic education.
Now available free from LINCS, you can find three suites of new evidence-based resources to improve services to adult English language learners. Each suite contains an issue brief, an online learning module, and a companion learning resource (a larger, more expanded publication, similar to a digital magazine).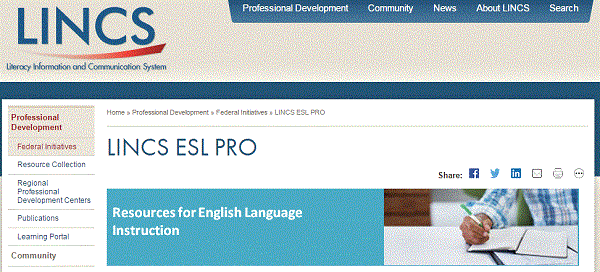 Suite 1 – Meeting the Language Needs of Today's English Language Learner
In this first suite of resources, ABE practitioners explore the need for more rigorous academic instruction in language and literacy skills. The authors highlight specific elements that research has shown to be critical for adult English language learners' full access to academic and work opportunities (such as critical thinking, academic language, and language strategies). Many concrete examples for teaching and further readings and resources are provided!
Suite 2 – Integrating Digital Literacy into English Language Instruction
The second suite of materials shows research-based approaches to integrating technology and increasing digital literacy in a variety of English language learning contexts. Explore this brief, online module, and companion learning resource to extend learning opportunities and develop digital literacy in all your learners!
Suite 3 – Preparing English Learners for Work and Career Pathways
In the final suite, key considerations for serving adult ELLS preparing for the workforce are described, and the authors suggest specific models for implementation. These materials offer a host of practical ideas for contextualizing instruction to career pathways for your learners!
Use these new LINCS resources as a professional development tool, or to help you plan and deliver lessons. They are intended to build the capacity of teachers, programs, and states to improve and sustain the effectiveness of adult ELL instruction nationwide.
You may recognize some of the authors of these materials! Hamline University's Betsy Parrish, ATLAS's Patsy Egan, and Jayme Adelson-Goldstein (who presented at the 2015 Adult ESL Institute) were all involved in this project. As you find useful information and guidance in the three suites, we hope you'll let us know!
Patsy Egan, Director
ATLAS