NEW Adult Literacy Hotline – Do you know how your data looks?
January 2, 2020
NEW Adult Literacy Hotline – Do you know how your data looks?
Kelly Rynda, Hotline and Volunteer Support Specialist
The Adult Literacy Hotline, which has allowed adult learners, social service providers, and ABE staff to find ABE program and class information for over 30 years, now has a new interface.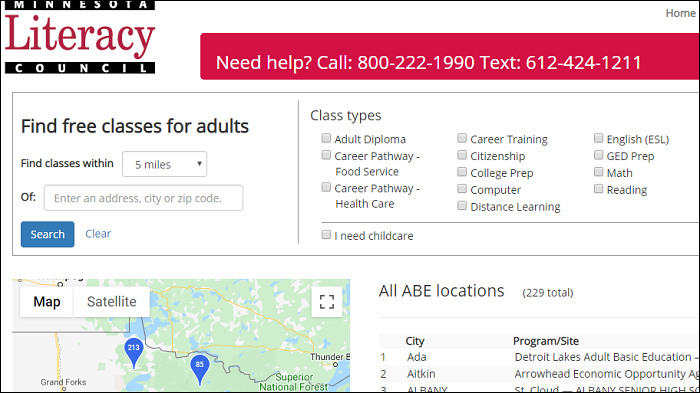 The same great search functions exist – search by zip code or city name, specify which type of classes you're looking for and at which times of day – but with the added bonus of receiving data from SiD!
The Hotline no longer depends on manual updates from Minnesota Literacy Council staff. Instead of asking ABE programs to provide updates, any updates you make in SiD will be reflected on the Hotline. This will allow for much greater accuracy in referring learners to programs that meet their needs.
What does this mean for YOU?
Please make sure your data in SiD is accurate and how you want the world to see it! Here are some tips:
Avoid acronyms in your program name! Learners and social service providers less familiar with ABE might not know your program already.
Make sure your class names reflect what the class is – for example, naming a class after the building where it takes place may be confusing to those looking for classes.
Please make sure your subsite's contact information (phone, email) is accurate – this is now what Hotline staff gives to anyone with an inquiry as well as what anyone viewing your information on the website sees.
Make sure other subsite data (address, website) are accurate.
Check your subsite's description to make sure it's up to date!
Take a look at the new Hotline here and see how your data looks: https://hotline.mnabe.org/. If you see errors, make your corrections in SiD!
Questions or issues?
Consult the help guide here: https://mnabe.zendesk.com/hc/en-us/articles/360031377951-Hotline-Prep-Parts-1-2.
Still need help? Contact the Urban Planet support team at: support@mnabe.org.
Originally published 11/22/19
Kelly Rynda, Hotline and Volunteer Support Specialist
Minnesota Literacy Council