New! CCRS Video Discussion Guides: Free Professional Development Resource!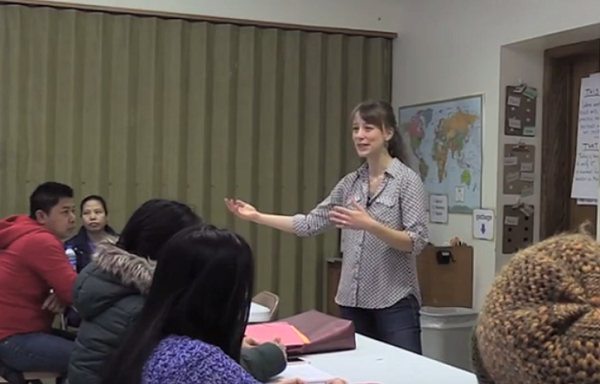 December 10, 2018
New! CCRS Video Discussion Guides: Free Professional Development Resource!
Andrea Echelberger, ESL Training Coordinator
Great teaching deserves great professional development! ATLAS and the Minnesota Literacy Council are proud to present a new PD resource for teachers and sites who are interested in strengthening their ability to deliver CCRS-aligned classroom instruction.
A talented group of ABE professionals came together and developed Video Discussion Guides to accompany the new CCRS in the ABE Classroom videos. These guides provide teachers, volunteers, and educators with targeted, thoughtful questions that will enable viewer to get the most out of the CCRS videos. These guides can be downloaded from the MN Literacy Council website, and used to facilitate reflection and in-depth discussion around the videos.
Viewers can use the guides for personal reflection on the videos and their own teaching, while schools and/or teaching cohorts can utilize them as a ready-made professional education opportunity. Each of the guides divides the videos into three distinct sections, so that the videos can be watched and discussed in installments. Whether teachers are new to teaching the CCR standards or highly experienced in teaching the standards but interested in continuing to build their teaching toolbox, this new professional development resource will be tremendously valuable.
CCRS in the ABE Classroom: Low Beginning ESL features Nicki Olalde, of Lyndale Neighborhood Association (LNA), who teaches at CCRS Level A. The video discussion guide focuses on her use of:
Classroom Routines
Sample Discussion Question: In her interview, Nicki shares that one of the benefits of routines is that they preserve cognitive space in the students' minds for the actual instruction. What are some other benefits of routines? What are students in this class able to accomplish because they are comfortable with the existing routines?
Developing Literacy Skills
Sample Question: How could you use some of the scaffolding techniques you observed in the video to prepare your own learners to interact with complex texts?
Analyzing Text 
Sample Question: Close reading is heavily emphasized in the CCRS. How do the activities in this lesson prepare beginning level students to closely read a text?
CCRS in the ABE Classroom: Intermediate ESL features Jessica Jones, of the Minnesota Literacy Council's Arlington Hills Open Door Learning Center, who teaches at CCRS level C. The video discussion guide focuses on her use of:
Preparing for Close Reading
Sample Question: What choices/tools do students have to show evidence of learning? For example, what are their options for demonstrating the meaning of a word or sentence? What practices of strong readers does Jessica encourage them to use while figuring out the meaning of new words?
Productive Struggle
Sample Question: In her interview, Jessica says that teachers need to learn when to "sit on their hands." How does Jessica encourage and support productive struggle during this section of the video?
Citing Evidence
Sample Question: Citing evidence is closely emphasized in the CCRS. How does the use of sentence frames in this section of the video support the learners' ability to present careful analyses and defend their claims?
No matter what level of ESL or ABE you or your teaching colleagues work with, the discussion questions in these guides will be an excellent resource to your teaching strategies and classroom instruction. Be prepared for great discussions and lots of great ideas to take back to your classroom!
This project is supported by the Minnesota Literacy Council and ATLAS, both part of your MN ABE Support Network. A professional video editor has been volunteering his time to produce the three videos, which will be released throughout the fall and winter.
To find the videos and the Video Discussion Guides, go to mnliteracy.org/classroomvideos on the Minnesota Literacy Council website.
Stay tuned for the third video! CCRS in the ABE Classroom: Beginning ESL will be available in early 2019!
Andrea Echelberger, ESL Training Coordinator
Minnesota Literacy Council