One Small Piece at a Time: Quick and Meaningful Curricular Applications for the Universal Design for Learning (UDL) Training
August 7, 2018
One Small Piece at a Time: Quick and Meaningful Curricular Applications for the Universal Design for Learning (UDL) Training
Jamie Kreil, PhD, ESL Instructor at Cedar Riverside Adult Education Collaborative / Adjunct Faculty at Hamline University
I have a colleague who insists that any addition to our content and methods of delivery (and everything else we need to do in our lives) is like "eating an elephant." It's possible to complete the task but take it one small piece at a time. It can feel overwhelming, however, in the face of what we are tasked with as ABE teachers in an ever-evolving field. How can I meet content standards while addressing student variability in learning styles and needs? How can I manage this while holding myself accountable for the content of other trainings I'm taking? What about my roles outside of Cedar Riverside Adult Education Collaborative?
I was thinking about my colleague's comparison as I began the Universal Design for Learning (UDL) training offered by PANDA. The training came at a time when I was finishing my PhD, completing other ATLAS cohorts, and teaching online and in the classroom. It was a challenge, but I knew it was needed in my classroom given the range of literacy and oral language abilities represented in my students. There were more higher-level learners than true beginners and it was evident that the low-literacy learners were being left behind.
I didn't have time to create something from scratch, but I could use what I already had to try to increase accessibility to learning. With the idea that I could start small, I decided to make some quick changes to curricula I had already mapped to the standards using UDL principles.
We were on a "Jobs" unit, so I figured it was a good fit for the four adapted UDL principles:
Creating a welcoming environment
Providing clear expectations
Presenting a variety of instructional methods/materials
Allowing a variety of methods to demonstrate knowledge
The unit lent itself to varied student goals concerning employment, but it also presented an opportunity to explore jobs as they related to the school, and the routines and rules that accompany them.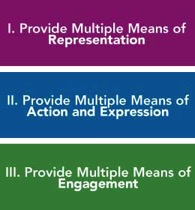 One quick and meaningful change I made was to use learning task formats my students were familiar with to create classroom jobs. Students looked at the flashcards, practiced each using Total Physical Response, categorized them according to the duties (i.e., customer service or janitorial), practiced expressing likes and dislikes using a graphic organizer, read a story, and then selected a job for the week. These tasks were all routines they knew, but the content changed.
The routines helped learners focus on content instead of the format of the activity, which seemed to build their confidence during a new activity I selected from the training. Using an adaptation of a "four corners" activity, they stood next to their selected job in the customer service or janitorial categories. With some scaffolding, I had them say why they chose the job using a sentence frame from a previous task. This quick change covered the latter three principles by presenting clear expectations through established routines, presenting content in multiple ways and having options for them to express what they know. You can see these learning task formats and the job chart here.
The jobs unit also allowed me to introduce the concept of rules as they relate to the classroom. After discussing the concept in terms of employment, we selected rules that applied to our classroom (e.g., no talking on the phone, listening to music, watching movies, etc.).  We did decide that eating and getting up to stretch was ok. Selecting rules together contextualized in the "Jobs" unit built upon background knowledge, provided variety and choice, and promoted a comfortable learning environment. They even requested a large group stretch at break time as a brain break. They remind me if I forget!
Another easy change was to implement a brain break as a part of my phonics routine. The brain break requires touching the thumb to the index, middle, and ring fingers, one at a time, increasing speed each round. Students tap out individual sounds in three-letter words, speeding up as they blend the sounds. It added a multisensory component to phonics instruction that had been missing from my curriculum. The low-literacy learners responded well to this and have made progress since its implementation.
One challenge I still have is creating a welcoming environment. In a shared community setting, it's difficult to implement permanent changes, such as furniture removal, removal of wall hangings, setting up stations for independent student use, etc. I've set up an independent station with some of the multi-sensory tools sent to me by PANDA during the training, but I do need to take it down after each class. I encourage teachers in these contexts to discuss appropriate steps to take with their program managers.
The format of this training was critical to my ability to implement these small, curricular changes. Having physical tools, concrete examples offered through video, and time to apply and reflect are essential for ensuring accountability. I was able to adapt these changes to the multi-level curriculum I was developing for the ATLAS ACP (Adult Career Pathways) and CCI (Contextualized Career-Focused Basic Skills Instruction) cohorts. As we create and share curricula with ABE practitioners across the state, it will be imperative to increase accessibility of learning for multiple learners using UDL principles.
If you are interested in making some small changes in your classroom using UDL principles, I highly recommend this training. The principles apply across contexts and it doesn't mean you'll have to eat an elephant for it to have a significant impact on your students. If you are interested in learning more about the UDL training or my curriculum, I will be doing a poster session about my project at Summer Institute. I look forward to seeing you there!
To register for the next UDL training (begins in January 2019), contact Wendy Sweeney, PANDA Manager, at wendy_sweeney@rdale.org or stop by the PANDA booth during the vendor fair at Summer Institute to sign up.
Jamie Kreil, PhD, ESL Instructor at Cedar Riverside Adult Education Collaborative / Adjunct Faculty at Hamline University
on behalf of PANDA