Our Journey to Integrated Education and Training (IET)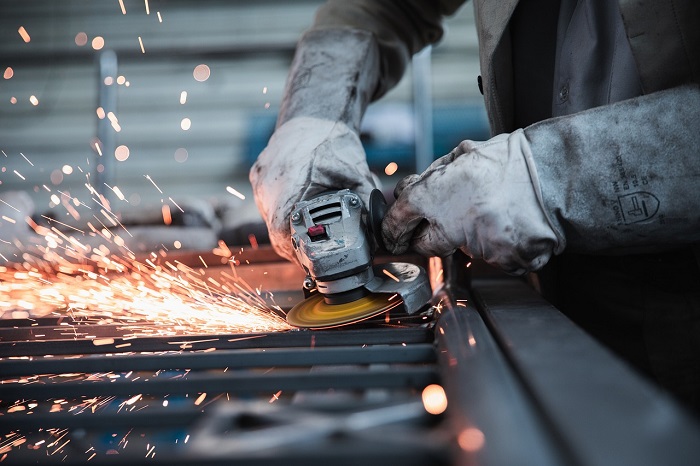 March 27, 2023
Our Journey to Integrated Education and Training (IET)
Dr. Patty Popp
Nancy Rosman, Education Director, MCF-Faribault
The MN Department of Corrections has a long history of providing adult basic education and career technical education to individuals who are incarcerated, dating back to 1990. Thousands of men and women have graduated from our programs, since that date.
As we approach our 35th anniversary in a few years, we thought it would be interesting to see where we have traveled. So, pack your bags and hop on for a little road trip through time.
---
The early years of the program saw programs like horticulture, building care, and cabinetmaking for individuals with a secondary credential. Individuals without a high school diploma were able to test for their GED or complete their high school diploma. But those two trains rode on very different tracks.
In 2018, DOC Education hopped into a VW bus and used part of a Perkins grant to fund a pilot Introduction to Construction Trades bridge course for students who were half done with their MN Standard Adult Diploma. In collaboration with South Central College (who provided OSHA-10 training and the NCCER core curriculum), an ABE teacher provided contextualized ABE in the morning and co-taught in the afternoon. Of the 19 participants, 84% completed the NCCER examinations for the nine core modules, OSHA-10 requirements, and a NorthStar Digital Literacy certificate. Unfortunately, only two attained secondary credentials, as it was difficult to meet English and Algebra level requirements. That bus broke down due to a lack of sustainable funding.
Next up was a pull camper…again using Perkins funding, a pre-apprenticeship program was designed for the minimum custody men at MCF-Red Wing. The sleek partnership of Laborers' International Union of North America (LiUNA!) and MN State College Southeast resulted in all participants completing 60 hours of the pre-apprenticeship pathway. Four individuals completed the entire 120 hours. The project also resulted in the development of a comprehensive curriculum for future use.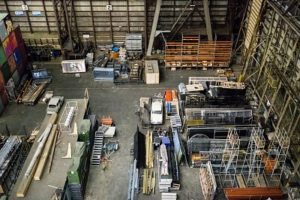 Given that success, it was time to build capacity. Our ABE manager and facility education directors from Moose Lake and Faribault received training through the federal Rethink Adult Education Challenge Phases 1 and 2 (virtual accelerator), as well as the OCTAE initiative: Integrated Education & Training (IET) in Corrections. Our ABE Transition Plans became focused on creating new pathways from secondary credential to career tech and college. The 9th grade reading requirement was removed as a prerequisite for enrollment into career tech and college programs. The pieces were all coming together.
Moose Lake was the first MNDOC facility to implement an approved IET program—IET C-Tech, a cabling program. Faribault followed shortly thereafter, implementing an approved Manufacturing Skills IET program and then Moose Lake added IET Carpentry. Faribault is currently working on an application for IET Mechanical Design, and Lino Lakes is working on an application for our second IET C-Tech.
The three components of IET include adult education and literacy, workforce preparation skills, and workforce training activities, all focused on a specific occupational cluster. The MNDOC IET programs are co-taught by an ABE instructor and industry expert instructor. A Single Set of Learning Objectives (SSLO) are developed to define what the students will know and be able to do. Here's an example of one: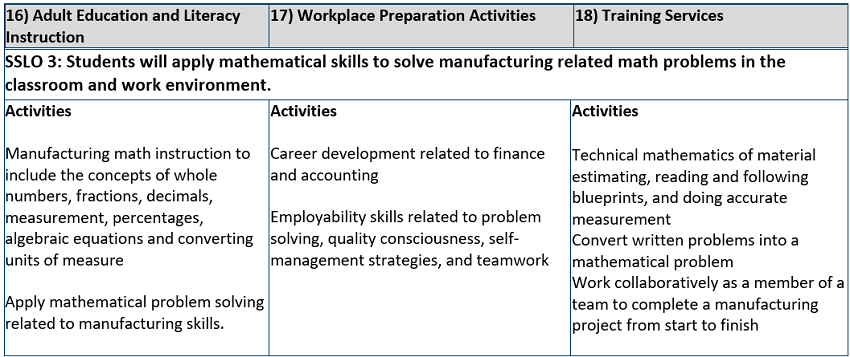 Adult education and literacy activities are presented concurrently and contextually with workforce preparation activities and workforce training. Community business partners participate in our programs, offering financial planning seminars, supporting curriculum development, facilitating direct entry into unions, and conducting on-site interviews.
Our IETs intentionally target individuals who would have previously been excluded from participating in career technical training programs. The program is strengthened by increasing the overall achievement of the group. Concurrent enrollment in ABE and career tech programs prepares more individuals to make a successful transition back into their communities.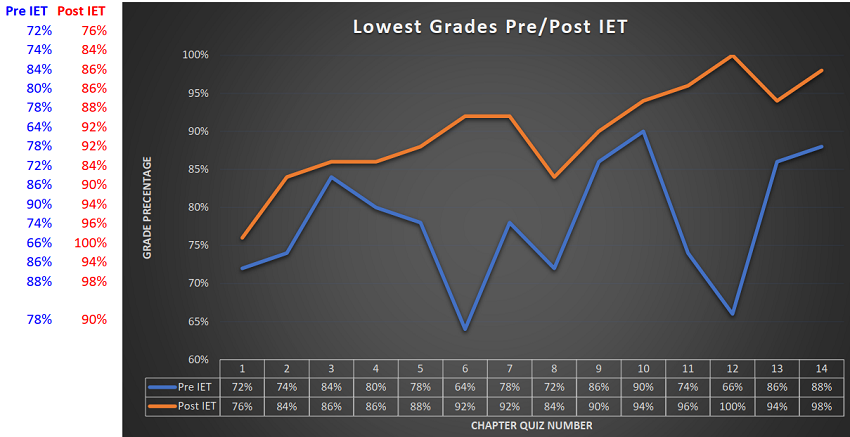 DOC Education is excited to travel down this road. We're guessing we may get a flat tire now and then or miss a turn, but the overall successes of our students are fuel enough to keep the development and implementation of new IET programs moving forward. We're eager to expand the use of IET within the MNDOC to further accelerate our students' educational and economic mobility.
Dr. Patty Popp
Minnesota Department of Corrections
Nancy Rosman, Education Director, MCF-Faribault
Minnesota Department of Corrections