Pre-Service Trainings for Classroom Assistants, One-on-One Tutors, and Conversation Circle Volunteers are Now Available!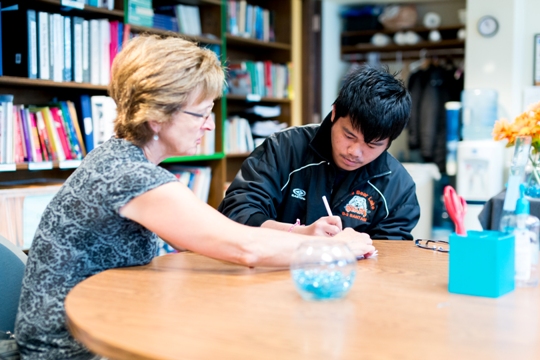 August 26, 2019
Pre-Service Trainings for Classroom Assistants, One-on-One Tutors, and Conversation Circle Volunteers are Now Available!
Andrea Echelberger, ESL Training Coordinator
No matter what role a volunteer has in an adult ESL program, training will help them to be better prepared to support learners and feel more confident. These new 3-hour ESL trainings are designed to prepare classroom assistants, one-on-one tutors, and conversation circle volunteers for successful interactions with ESL learners and teachers.
These trainings are designed for volunteer tutors who are working under the direct supervision of a professional teacher, and who are not generating learner contact hours. Volunteers can register for these free trainings at http://mnliteracy.org/volunteers/training/equity-culture-teaching-workshops#see-dates-register
Volunteering in the Adult ESL Classroom
Whether you are a new or experienced classroom assistant, this workshop will help you develop your teaching skills so that you can better support the classroom teacher and learners. Gain practice leading common ESL classroom activities and understanding best practices, explaining vocabulary, leading a reading group, error correction, encouraging students to think and problem-solve, and working with ESL teachers. If you have attended the 12-hour ESL Pre-Service Training, you do not need to attend this in-service.
Next Sessions: Thursday, September 26, 9:00am-12:00pm, and Tuesday, October 8, 6:00-9:00pm
Just the Two of Us: One on One Tutoring with Adult ESL Learners
One on one tutoring is fun and rewarding, but volunteer tutors can also face a lot of challenging questions, such as "Where do I begin?" "How do I incorporate speaking and listening?" "What errors should I correct?" and most importantly, "How do I keep both of us engaged?" During this workshop, you'll learn best practices for one on one tutoring, guidelines for lesson planning, and suggestions for interactive activities and games. Be prepared to engage in hands-on learning!
Next Session: Wednesday, October 16, 9:00am-12:00pm
Tell Me about It: Conversation Circles and Partners
Ask many ESL learners what they'd like to work on and the majority of them will say, "conversation." To respond to this need, more and more programs are offering opportunities such as conversation circles or partners to help learners develop their skills. But there is more to teaching conversation than just speaking English. During this workshop you'll learn strategies, best practices, and fun and interactive activities and games to help ESL learners build fluency in English conversation.
Next Session: Tuesday, September 24, 6:00-9:00pm
Have 10 or more volunteers at your site who need to take one of these trainings? You can contact Andrea Echelberger at aechelberger@mnliteracy.org to arrange for a free on-site training for your volunteer tutors.
Andrea Echelberger, ESL Training Coordinator
Minnesota Literacy Council