Prepare your Volunteers to Make a Difference
September 1, 2016
Prepare your Volunteers to Make a Difference
Andrea Echelberger, ESL Training Coordinator
Volunteers can make a tremendous difference in the learning experiences of adult GED and ESL students. The Minnesota Literacy Council provides a variety of pre- and in-service workshops and other resources for new and experienced volunteer tutors, designed to help maximize their impact in the classroom, small group, and one-to-one settings.
Pre-Service Trainings
Minnesota Literacy Council offers two 12-hour Pre-service workshops for volunteers. The English as a Second Language Tutor Workshop prepares tutors to work with English Language Learners and provides an overview of techniques, strategies, and activities for tutors working in a variety of classroom settings. The Reading, Writing, Math and GED training prepares volunteers to work with native English speakers, or higher-level ESL students on literacy-related skills. These trainings cost $35 per participant (fee waivers are available upon request), and are designed to meet the NRE volunteer training policy requirements for ABE volunteers who generate contact hours.
See dates and locations or register for any of these trainings >>
In-Service Trainings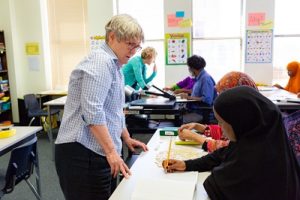 The Minnesota Literacy Council also offers free 2-3 hour in-services for volunteers and teachers on a wide variety of instructional topics such as pronunciation, alphabetics and conversation. These in-services explore common challenges in the ABE classroom, and offer strategies and activity ideas for successful instruction.
Access a listing of upcoming in-services >>
(In-services are also listed on the MN ABE PD calendar)
By-Request Trainings
By-request, on-site trainings for ABE volunteers and staff are also available. Programs in Greater Minnesota can request 6- or 9-hour pre-service trainings or 2- to 3-hour in-service sessions. Programs in the Metro areas can request a trainer come and present an on-site in-service for their volunteers. Contact Andrea Echelberger at aechelberger@mnliteracy.org for more information.
Looking for activity ideas for your volunteers (or you)? Get signed for the Minnesota Literacy Council Tutor Blog. Each week, you will receive a helpful teaching activity, tip or strategy.
Andrea Echelberger, ESL Training Coordinator
Minnesota Literacy Council