Professional Development via Adobe Connect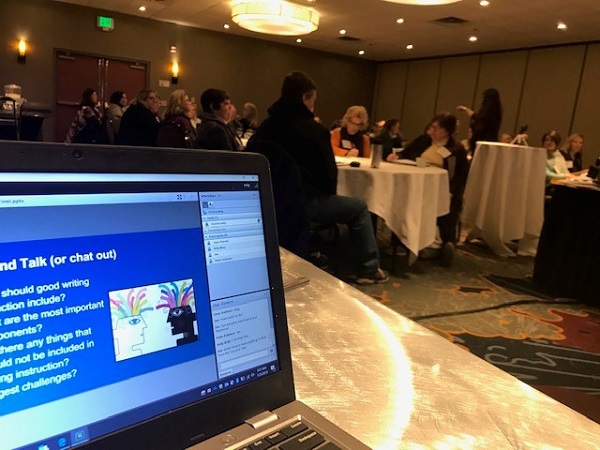 February 4, 2019
Professional Development via Adobe Connect
See Moua-Leske, Director
Imagine joining in on an all day conference without having to pack your suitcase and driving X number of hours to expand your knowledge on ABE-related topics. You can join in from the comforts of your home in your favorite pajamas or at the office with your colleagues. At the Language & Literacy Institute held January 24-25, 2019 at the Radisson Hotel in Roseville, Minnesota, Southwest ABE was able to pilot technology that could make this a possibility in the near future!
Lights, camera…
The pilot was made possible by a collaboration between Southwest ABE, Southwest Minnesota State University (SMSU), two ABE teachers from the metro area – Kristine Kelly and Stephanie Sommers – and on-site technical support from North Hennepin Community College.
Following input from recently retired SW ABE Director Pat Thomas, in 2018 Dan Baun – SMSU Chief Information Officer and Regional Director of Southwest/West Central Higher Education Organization for Telecommunications and Technology (SHOT) – wrote and obtained a grant that allowed six Minnesota ABE consortia access to 300 Adobe Connect licenses for a year. Since the licenses only had to be used by the teacher or presenter of the class and were "parking lot" style licenses (i.e., once the teacher/presenter was done using a license, it was open and usable again by someone else), SW ABE opened the 300 licenses to any ABE program in the state of Minnesota to use in exchange for a review of the product.
…Action!
Our guinea pigs, Kristine and Stephanie, presented their three-hour session on Developing Fluent Writers – Yes, You Can! at ATLAS's Language & Literacy Institute on January 25. The room was full of participants while the session was being streamed live via Adobe Connect. People who were not physically able to attend the session signed in through Adobe Connect with a simple link they had been previously given.
The PowerPoint Kristine and Stephanie presented to the live group was simultaneously shown to the Adobe Connect participants. A table microphone picked up audio from the presenters as they walked around the room and the live group. A moderator checked the group chat for participation from the Adobe Connect participants. If they had questions or comments, those were passed on from the moderator to the presenters.
Here is a review from one of the Adobe Connect participants:
"To my amazement, this worked beautifully. I was able to connect with no trouble. The audio was absolutely clear. (I actually had to turn the volume down) The visuals showed up clearly. I am no techie so it was a lovely surprise. Thank you. And your quick responses were wonderful."
It's safe to say, the pilot was a success! If you have any questions or would like more information about Adobe Connect and how it can enhance or expand your program and professional development, please contact SW ABE Director See Moua-Leske at see.moua-leske@marshall.k12.mn.us. SW ABE does offer Adobe Connect trainings and a monthly Adobe Connect Support group led by SW ABE teacher Matt Fischer. You can contact Matt at mattjirish0089@gmail.com to schedule a training or join his monthly support group.
See Moua-Leske, Director
SW ABE