Project-Based Learning in Action: How to Be a Successful Online Student – Part 1
April 25, 2022
Project-Based Learning in Action: How to Be a Successful Online Student – Part 1
Dan Bruski, Instructor
Background
In our program's first year of teaching online classes as a result of the Covid-19 pandemic, each class developed what became its new classroom norms. These online class norms were influenced by the teachers, students, and comfort with new technology, and also by the ways we did things before, back when we were meeting in person.
We were defining what an online class was as we were doing it. Sometimes students in my class would make suggestions, or even reprimand each other about their online class etiquette, which caused some tension.
I determined that we should, after having these months of experience, together compose a list of class rules or expectations. I hoped it would create an outlet for those vocal participants to express their views productively. This would also be a good chance for others to share their views, and create a collection for our class that we could refer to and review periodically. The culmination of this lesson was a video with an authentic use for new students.
It was a mini project-based lesson, but most of the time students didn't know we were working on a project.
Lesson description
The lesson was taught over several days and was worked into the end of a unit on employment, along with a text from Reading Skills for Today's Adults.
Student Level: Low-intermediate ESL (CASAS Reading 201-211)

Length of time: 4 hours over 2-3 class periods

Grammar focus: Affirmative and negative imperative verbs

Writing focus: Sequencing words: before, during, after

CCR (College & Career Readiness) ELA Standards: R1, R10, W3, L1, SL1

TIF (Transitions Integration Framework) Skills: EC 1, EC 3, LS 4, CT 1, SM 1, NS 2
---
Day 1
Warmup:
We started out listening to a story about my recent trip to the dentist. I asked students to listen and be ready to tell what happened.
On Friday I went to a dental appointment
On Friday I went to a dental appointment. I brushed my teeth before I went to the appointment. I put on a mask before I entered the office and I sat in a chair and waited my turn.
During the exam I sat in a chair. I opened my mouth when they told me to. They looked at my teeth and cleaned them. I didn't have an X-ray.
After the exam I made my next appointment. I left the office and took off my mask.
I tried to connect the students' lives to the content, asking,
What is this story about?
Do you have experiences like this one?
Is your story the same?
Anything else to do at the dentist?
We previewed the vocabulary word "during" and brainstormed with the whole class some examples of during situations, along with before and after.
The students then worked on a BEFORE, DURING or AFTER worksheet slide based on my oral story and/or their own experiences. Some differing answers occurred and we allowed some variations.
DENTAL EXAM: What do you do BEFORE, DURING or AFTER the exam?
________________ Talk to the dentist about your teeth.
________________ Go home.
________________ Put a mask on.
________________ Brush your teeth.
________________ Open your mouth when the hygienist tells you to.
________________ Sit in the examination chair.
________________ Sit in a chair and wait for your turn.
________________ Sit still for the X-ray.
________________ Make your next appointment.
________________ Take off your mask.
________________ Tell the receptionist your name.
________________ Put your mask on again.
Reading: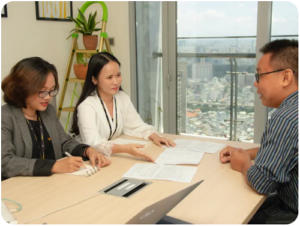 We read a definition of Imperative Verb together, went back and reviewed the BEFORE, DURING or AFTER worksheet, and then the class identified the subject (YOU). It was helpful to compare with the first person story script (On Friday I went to a dental appointment) in which the subject was "I."
Text: "A Successful Job Interview" from Marshall Leveled Reading Program, Level B
As one of the follow-up activities during multiple reads of the text "A Successful Job Interview," students were asked to summarize what each paragraph was about. We tried to get at whether the main idea of that paragraph was about advice for before, during, or after the interview.
Wrap-up:
As a Day 1 wrap-up, an assessment Google Form had students identify each action as being something done before, during or after a successful job interview. The final two questions asked students to write two additional imperative sentences of advice for a successful job interview.
---
Find out about Day 2 of this project and the subsequent wrap-up activity in the next MN ABE Connect!
Originally published 11/1/21
Dan Bruski, Instructor
Adult Options in Education