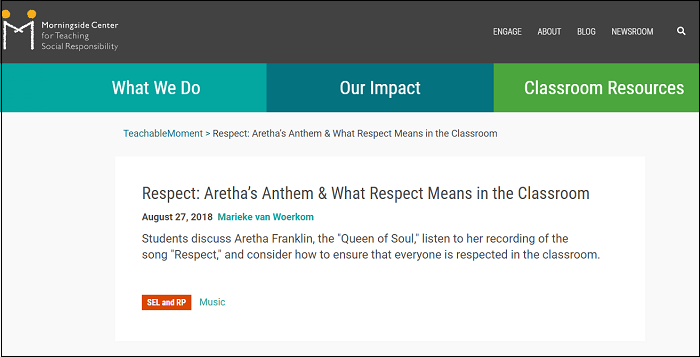 March 13, 2023
R-E-S-P-E-C-T in ABE
Stephanie Sommers, ACES Coordinator
"R-E-S-P-E-C-T

Find out what it means to me."
In the year 1967 Aretha Franklin recorded a cover of the song "Respect," which was written and originally released by Otis Redding. The song became a huge hit for Aretha, earning her two Grammy Awards, and enduring as her most instantly recognizable song. It is an empowering song about a person asking for the respect that they deserve, and it serves as the basis for one of the excellent lessons from a new resource that I have recently been exploring called Morningside Center for Teaching Social Responsibility.
The mission of Morningside Center is to "facilitate transformative experiences for members of the school community to co-create joyful, equitable, and rigorous learning environments." Part of how they fulfill this mission is by sharing a collection of classroom resources that focuses on helping people understand current issues, celebrate diversity, and explore intersectionality. The lesson collection is very well-organized and can be searched using key terms and/or by applying various filters.

Lesson examples
The lesson that I mentioned above can be found in a curated collection of lessons called Teach Women's History Month. The lesson title is "Respect: Aretha's Anthem & What Respect Means in the Classroom." It's a fantastic lesson that asks students to think about ways that they can feel respected in the classroom. As part of the lesson, students think about questions like, "What behaviors do you associate with respect?" and "What feelings do you associate with respect?" To me, it feels like the perfect lesson to try out at the beginning of a new term or whenever you have a group of new students joining your class.
And if your students react positively to listening to music in class, there is another lesson in the collection about creating and sharing a music playlist that tells a personal story in seven songs. This lesson is called "Storytelling Through Music," and it sounds like a fun and engaging way to build community, which we know is a huge driver of student retention, in the classroom.
Anther lessons that caught my eye in the Morningside Center resource collection is called "Honoring Women's History Month and Intersectionality." This lesson begins with a definition of intersectionality that can be shared with students:
"Intersectionality identifies multiple factors of advantage and disadvantage. Examples of these factors include gender, caste, sex, race, ethnicity, class, sexuality, religion, disability, weight, and physical appearance. These intersecting and overlapping social identities may be both empowering and oppressing."
There are also videos that teachers can use to explain more about this topic. Then students are asked to journal about their own intersecting identities and reflect on which ones are most dominant or important and which ones present the greatest challenges. The lesson goes on to have students reflect on who inspires them and why.
Building community in the classroom
The thing that so many of these lessons have in common is that they provide a way for our students to get to know more about each other while sharing important pieces of themselves. They are ways to build community in the classroom while also exploring issues that are being talked about in the broader community outside of school. In short, they are about connecting our students to each other and to the world, and there is not more important work that we should be doing.
Explore this topic more!
To learn more about creating more equitable and inclusive ABE classrooms, please join us on Tuesday, March 21 for an ACES webinar that will focus on diversity, equity and inclusion (DEI). DEI is one of the lenses through which we have been looking as we work to update the example ACES lesson plans as part of TIF 2.0. The newly updated lessons for two TIF categories, Effective Communication and Self-Management, will be highlighted during the webinar.
We will also be joined by special guest Cydnee Sanders, MA TESOL, whose previous work in this area includes developing the Antiracist Praxis Study Circle for ATLAS. Cydnee is currently a Fulbright Scholar in South Africa, where she is continuing her education in antiracist teaching.
Creating More Diverse and Equitable ABE Classrooms
March 21, 2023 @ 1:30-3:00 pm CDT
REGISTER NOW >>
Stephanie Sommers, ACES Coordinator
ATLAS