Remote One-to-One Tutoring Keeps Learning Going at Open Door Learning Center
July 27, 2020
Remote One-to-One Tutoring Keeps Learning Going at Open Door Learning Center
Rob Podlasek, Training Director
Literacy Minnesota's Open Door Learning Center has been providing volunteer-led tutoring and classes for GED and ESL students for over 30 years. Before the pandemic shut down in-person classes in March, there were 11 classes being offered during the day for students, including four levels of ESL, citizenship, math, and focused classes in reading, writing, grammar, and digital literacy. The daytime program was serving around 150 students, mostly through instruction led by 75 volunteers.
When programming shut down, daytime coordinator Lloyd Brown's first concern was to keep the program's community of tutors and learners connected. "At first, we thought it was just going to be for two weeks. I knew we would be coming back together in person eventually and I wanted to make sure I didn't lose anyone." Of course, two weeks has turned into four months… and counting.
Brown's first action was to reach out to students and listen to their concerns. In addition to worries related to the virus, many students were asking for English classes and showed interest in working remotely. At the same time, volunteers were contacting the program asking how they could help. Brown strategized that connecting these students and tutors one-to-one would be a great way to keep learning happening during the shutdown, and keep the community together.
Starting with his most experienced tutors, Brown paired tutors with students they already knew from in-person work at the learning center. Knowing each other cut down on the anxiety of connecting virtually. Since they were familiar with the lesson content, most were able to able to jump right in after a little coaching on how to use WhatsApp or Zoom.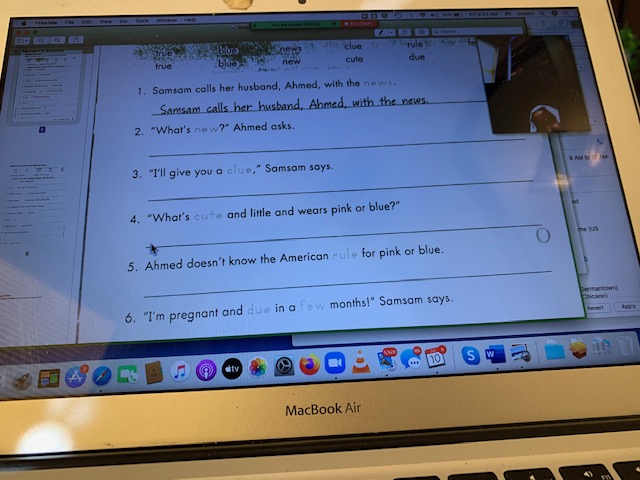 Brown then focused on pairing up less-experienced volunteers with students. With each new pair, he contacts the student and tutor to assess interest and availability. He then passes the pair off to a part-time staff person, Morgan, who will have 2-3 trial lessons with the student. These lessons are a great way to assess student needs and troubleshoot any technology issues they might have. Volunteers have greatly appreciated the chance to observe the sample lessons before taking over themselves.
Volunteers are provided with individual guidance for lesson planning and help using the required technology. They are also encouraged to participate in tutor training webinars provided by Literacy Minnesota, especially Remote Tutoring 101 which provides tips for how to get started teaching virtually. (More information about Literacy Minnesota Volunteer Training can be found at https://www.literacymn.org/volunteer-trainings)
Since remote tutoring began, there have been over 500 sessions with nearly 50 pairings of students and volunteers. After each session, tutors complete a lesson report via email or Literacy Minnesota website portal, which Brown reads and responds to if necessary. An immediate benefit has been greater flexibility in scheduling for the students, leading to greater accessibility. Although the volunteer commitment is to meet once a week for 30-40 minutes, Brown finds that many pairs end up meeting two or three times a week.
Since students are receiving one-to-one instruction based on their needs, Brown is also reporting that many students are making greater progress than they had in live classes. He is looking forward to being able to do assessments! Another benefit is that he is seeing tutors from more diverse backgrounds wishing to volunteer. Some of these volunteers are college students who have the same language and cultural backgrounds as our learners. Remote tutoring allows them to volunteer with regardless of scheduling and transportation issues, and participate from as far away as New Jersey.
Brown sums up the experience:
We have taken the opportunity to accelerate virtual ABE, and create a system that benefits students with focused, individual instruction, along with the convenience many volunteers appreciate. I've had a number of students and volunteers say they prefer this system over the in-person classroom experience!
Rob Podlasek, Training Director
Literacy Minnesota