Self-Expression Through Digital Storytelling
September 19, 2016
Self-Expression Through Digital Storytelling
Colleen Crossley, Consultant
At a workshop I attended last year, Dr. Gary Christenson, Chief Medical Officer of Boynton Health Services at the University of Minnesota, convincingly described how the arts promote healing and positive mental health. His message sparked within me a resolve to create more opportunities for students to express their creativity through the arts. I was also committed to incorporating multisensory methods into my Basic Skills classroom as a result of my work with PANDA.
The arts idea aligned well with my objectives. Recipe For Sequencing Success, from Florida's cpalms.org, was a lesson I taught to meet my goals. I adapted this writing lesson to incorporate student choice. The students chose a favorite recipe and accompanying photographs. Students used the iPad Book Creator app for this successful multisensory project! The book was also used to assess students' mastery of sequencing.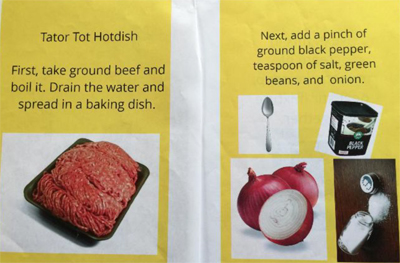 The students used creativity in writing and designing their digital book! Cooking is something that all my students do and can relate to; therefore, I wanted to provide a way for them to express their culinary favorites. After carefully modeling the steps of the assignment and giving plenty of time for guided practice, students got to work!
Each outlined steps in a favorite recipe, carefully using the sequencing transition words they had learned. They word-processed the steps they had written into the easy to use Book Creator. Finally, they selected photos from Google Images to add visuals to their text. The projects were assessed using a rubric that I shared with them in advance.
As a culminating activity, students proudly read aloud and shared their books with each other and with students in two other classes. Each received a color copy to take home as well. In addition to recipes for diverse offerings such as West African fufu and American potato salad, other titles included The Best Hot Dish; Okra Soup; Fadumo's Favorite Recipe: Injera; and Sambusas!
Artistic expression, multisensory learning, individual choice and voice, and resulting feelings of pride: all are enhanced by the use of Book Creator for iPad and other similar digital storytelling apps. For a copy of the lesson plan outlined in this article, please contact Colleen Crossley at colleen_crossley@rdale.org.
Interested in multisensory teaching?
To learn more about multisensory teaching, watch MN ABE Connect for registration information on PANDA's free webinar training on Universal Design for Learning (UDL). This self-paced training must be completed during January and offers 16 CEUs upon successful completion.
Contact Wendy Sweeney for more information or to sign up for the workshop: wendy_sweeney@rdale.org / 763-504-4095.
Colleen Crossley, Consultant
PANDA