Skills Commons for Developing a Future Pathway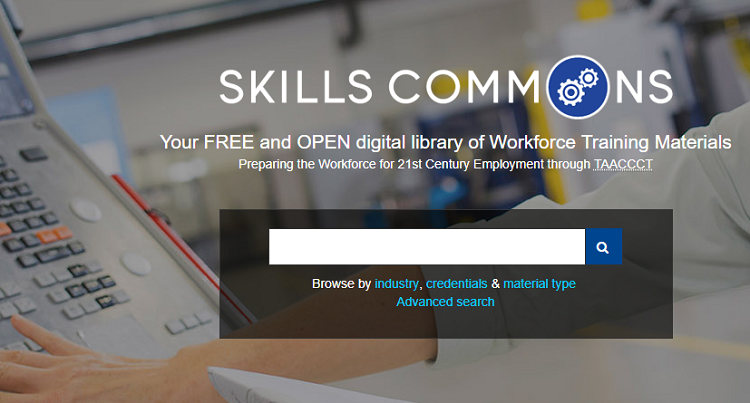 December 14, 2018
Skills Commons for Developing a Future Pathway
Stephanie Sommers, ACES Coordinator
One thing that all ABE teachers have in common is the desire to help their students achieve their individual goals. Another factor that is fairly universal among ABE teachers and programs is a lack of time and resources. ABE teachers want to meet the diverse needs of the learners they serve, but they often don't have the time to search for lesson materials that would allow them to truly differentiate. When you do find a promising resource, the other consideration is whether or not your program will be able to afford it.
Programs want to offer more career pathway and contextualized basic skills courses, but they don't have the time and money to develop them. Given these realities, wouldn't it be great if there were a huge repository of free online resources that highlight innovation and out-of-the-box thinking for helping adult learners to reach their career and training goals? If you think this sounds too good to be true, then I invite you to check out the Skills Commons website (https://www.skillscommons.org) and discover what this "free and open digital library of workforce training materials" can do for you.
What is Skills Commons?
Skills Commons is a collection of open educational resources (OERs) that were developed by recipients of a U.S. Department of Labor grant called the Trade Adjustment Assistance Community College and Career Training (TAACCCT) program. According to information on the Skills Commons website, the Department of Labor made a $1.9 billion investment between 2011-2018 in order to allow over 700 community colleges from across the country to create and contribute resources to the collection.
The website is fully searchable and you can look for materials by material type, institution, credential type, industry or occupation. There are also a number of showcases that the have been developed that highlight specific collections of materials, such as an Apprenticeship Showcase that contains resources supporting work-based learning and apprentice programs and a TAACCCT State Showcase that allows you to see which community colleges were grant recipients in each state. Minnesota received over 64 million dollars in grant money, which funded TAACCCT grants that were largely concentrated in the areas of manufacturing, healthcare and information technology. The showcase that I was most excited about, however, is the Affordable Learning Solutions Showcase, which will be described in more detail below.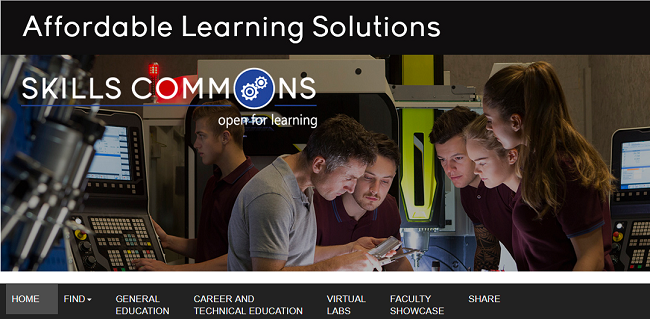 Affordable Learning Solutions Showcase
Skills Commons is managed by California State University and its MERLOT Program with the goal of providing free and open resources to support innovations with technology in teaching and learning. Driven by this goal, the Affordable Learning Solutions Showcase provides users with access to free and open eTextbooks in a wide variety of content areas. The textbook collection can be searched by discipline, audience, and other useful filters, such as peer reviews and user ratings.
Some of the books that I found that could be used in ABE classes were about American Government, Public Speaking, Math, and Writing. Also in this collection are links to a number of virtual STEM labs that are either free or low cost. These would be perfect for helping students prepare for the Science section of the GED test.
Tips for searching
When it comes to searching the site for curriculum and course materials, it can feel overwhelming. With so much content to sort through, it's a good idea to have a clear idea of what you're looking for before you start. I found it most helpful to browse by industry or occupation, but you can also search by material type, credential type, and institution. I searched for materials relating to a couple of the career fields that I know to be in-demand in MN. I found an entire Home Care Aide Training course that included an assessment tool, syllabi, day-by-day lesson plans, a student checklist, marketing brochure, and a final exam. I also found a Culinary Arts Contextualized Mathematics course that focused on how math is used to execute basic kitchen and restaurant operations. Since they are open source materials created under a Creative Commons license, users can feel free to share, remix, adapt, and build on them as long as there is appropriate attribution.
In conclusion, users of the Skills Commons website will need to dedicate some time to learning about how it is organized and what is available in order to get the most out of this extensive resource. For those who are willing to put in the effort; however, the potential for finding new and innovative materials is great. Skills Commons has been added to the Developing a Future Pathway section of the ACES resource library because of its potential as a tool for helping learners to explore a huge variety of career options.
Stephanie Sommers, ACES Coordinator
ATLAS