Social Studies & Civics Online Resource Library Is Here!
January 27, 2020
Social Studies & Civics Online Resource Library Is Here!
John Trerotola, Instructor
Are you still using that lesson on the Constitution that is as old as the founding document itself?  Are you using the same social studies resources year after year and need a change or some new additions to teach this vitally important content area?  If your personal social studies curriculum plan is non-existent or needs an update, help is on the way! There is a valuable new addition to the ATLAS online resources collection, and it is available to all practitioners.
During the 2019-20 school year, I have started and will continue to build a Social Studies & Civics resource library, found in the Resources section of the ATLAS website.  In the new library, recommended social studies and civics lesson plans, classroom strategies, and related articles that are relevant for all levels of ESL/ABE are being highlighted and summarized.  Moreover, they are broadly categorized by Civics & Government, Citizenship, History, Economics, and Geography.  Although the social studies library is in its very early stage, you already have the opportunity to peruse, click on the provided links, and hopefully begin to use some of the highlighted materials.
Featured resource: iCivics
While I have a long list of social studies resources that I will continue to add to the website, my first entries are ones that I have used with great success in my ABE classroom.  For example, when needing a very adaptable lesson on any aspect of the U.S. Government, I highly recommend iCivics (https://www.icivics.org/).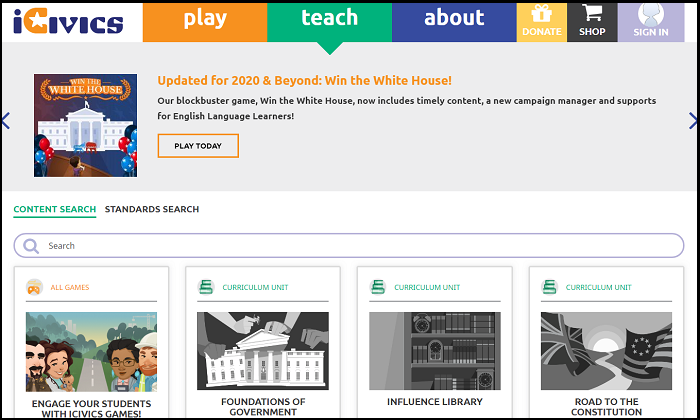 Started by Justice Sandra Day O'Connor, iCivics is a free, non-partisan resource that has middle and high school leveled curriculum units for most government-related content.  I frequently use materials from this site to introduce topics such as the forms of government, the U.S. Constitution, and the function of the three branches.
Moreover,  you can use other resources from iCivics to not only develop students' content knowledge but also help them refine their reading, writing, and speaking and listening skills.  Every standards-based lesson includes a plan, varied activities and assessments, and an answer key.  In addition, make sure to take advantage of the many online opportunities and interactive games that are provided by iCivics for lesson reinforcement.
Have a favorite resource to contribute?
I am compiling this online library based on resources that I have used in the classroom, ones that I've highlighted during presentations, and those that have been recommended by other teachers at all levels.  However,  I certainly do not have an all-encompassing list of resources and  I'm always appreciative of new ideas from the ABE community!  As such, please email me at john_trerotola@rdale.org if you have a particular social studies or civics-related resource that you would like to share and possibly have included on the website.
Look for future articles about the progress of the online Social Studies & Civics library, and make sure to check it frequently for new resources that you can immediately use with your students!
John Trerotola, Instructor
Robbinsdale Adult Academic Program