Spotlight on Professional Leadership Training
January 30, 2023
Spotlight on Professional Leadership Training
Lynn Thompson, Hospitality Career Pathway Program Manager & Instructor
The Professional Leadership Training at the International Institute of Minnesota is a 12-week class that helps people with U.S. work experience develop their leadership skills and advance in their careers.
Why Leadership training?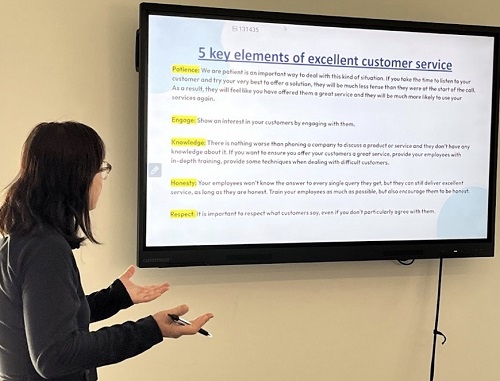 Graduates of our entry level training programs were coming back to us wanting to be supervisors or managers.  However, they needed the technical skills like digital literacy, advanced English writing, and managerial skills in order to achieve these advanced positions.
Additionally, entry level employees and foreign-trained professionals reported to us that they did not know how to promote themselves, ask for the promotion or raise they deserved, connect to the employers they wanted to work for, or network in order to find the positions they were looking for.  They also reported feelings of isolation in the workforce.
This is especially true for foreign-trained job seekers, who already have earned degrees and years of experience. Two thirds of participants in our leadership program have an earned degree with many years of experience from their home countries. While realizing they may need to change careers, the idea of going back to school to earn a new credential or degree is not ideal for these job seekers.
Employers also expressed the need for managers who not only have technical skills, but also leadership and people skills.
Our training in a snapshot
12 weeks; 108-hour class
Foreign born students
Worked at least 6 months in US or have advanced foreign degree
High Intermediate ESL (NRS ESL Level 5 – CASAS Life & Work Reading 211-220)
Hyflex teaching model
Winter session is an evening class 5-8pm.
Summer and Fall sessions are daytime classes 10am-1pm
Curriculum
https://atlasabe.org/resource/professional-leadership/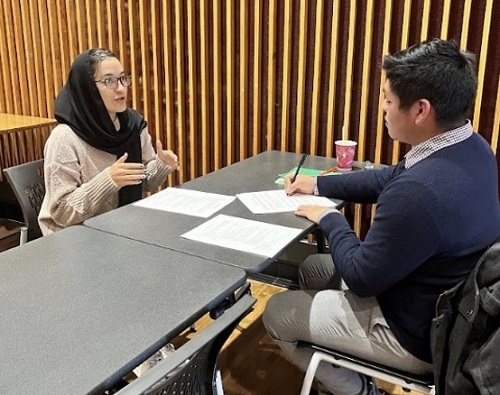 Our curriculum is designed to meet the needs of job seekers and professionals across industries.  We focus on soft skills that are utilized by managers, supervisors and leaders in the workplace.  All lessons are CCRS (College & Career Readiness Standards) aligned and differentiated English language learning.  Curriculum is also posted on the ATLAS Adult Career Pathways resource library.
Emotional Intelligence

What is your leadership style? How do you work with others?

Advanced Customer Service

How it is different in US than other cultures
How to respond to online reviews

Teaching and Training Employees

How do you teach employees the skills they need to do the job?

Networking

Elevator speech, Informational Interview, LinkedIn, Mock Interviews

Financial Coaching

Budgeting, credit score, identity theft, financial goal setting,
one-on-one coaching sessions

Digital literacy; integrated throughout all curriculum

Scheduling and inventory using Excel
Giving Feedback using Google Suite collaborative work
Professional writing skills using email, resumes and cover letters
Job searching using internet safety, Powerpoint/Google slides and research
Requirements for completion:
Complete 4 philosophy papers; Leadership, Customer Service, Feedback and Teaching and Training
Small group presentation
Complete and pass 6 North star digital literacy assessments: Digital literacy, Google Docs, Microsoft Word, Career Search skills, plus 2 of their own choosing
Complete an informational interview with someone in their chosen field and a final presentation based on this interview
Professional Resume and Cover Letter
After completion
Graduates are given support in the job search process with our employment navigator who meets with them regularly to find a job, get a promotion or identify additional training needed.  The employment navigator keeps in contact with students for one year after graduation or job placement.
Our students
Blog story from a graduate, Yosmary Mejias

75% are working during the class

67% have an earned college degree
86% have non-US education
75% get a new job, promotion or wage increase after class
Average wage of student after class is $22.94
Students come from a variety of industries including; law, accounting, business/banking, education, engineering (civil, mechanical and electrical), Human Resources, Healthcare, aerospace and more.  No matter where they are in their journey, students in our professional leadership training, gain skills, knowledge and confidence through the lessons.  The community of support that our students create through the class is another added benefit that helps to normalize the experience of new Americans in the workplace.
Student success
A student was working as a nursing assistant and wanted to apply for a supervisory role while taking the leadership class.  With the help of the employment navigator, she edited her resume and practiced common interview questions. The student reported that the questions in the interview for her promotion were the same questions she prepared with us.  As a result, she felt very confident and prepared and got the job!  She is now a supervisor and has a nice pay increase as well.
---
A student with a bachelor's degree in Foreign Trade and International Business, decided she wanted to continue her education after taking the leadership class. She enrolled in our College Readiness Academy and is interested in pursuing a degree in nursing.
---
A student with a background in electrical engineering, began our class working in a custodial position at the airport.  By the end of class, he accepted a job at a medical device manufacturing company. In addition to the pay increase, he is excited to move up in this field and put his technical/mechanical skills to use.
---
A Ukrainian student, who took the leadership class, has worked in finance, project management, and hospitality for over 10 years. She wants to work in data analysis, finance, or project management here. In the class, she conducted an informational interview with an employee from US Bank and had a mock interview with an engineer who has extensive experience working for several large corporations. We also worked on her resume together. She has a couple interviews coming up, and we are going to practice phone interviewing as she's most nervous about speaking English over the phone.
---
A student from Afghanistan has a background in journalism, educational psychology, and education program research. She worked with the employment navigator on several applications, edited her resume, and practiced interviewing skills. She conducted an informational interview with an Educational Psychology professor from Metro State University and conducted a mock interview with an HR professional in class. She recently accepted a position at Afghan Cultural Society working with women and mental health services.

Lynn Thompson, Hospitality Career Pathway Program Manager & Instructor
International Institute of Minnesota