Summer Institute Virtual Poster Sessions Still Available to View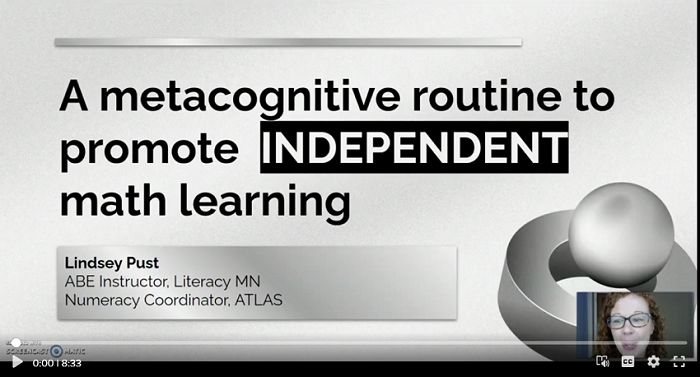 August 30, 2021
Summer Institute Virtual Poster Sessions Still Available to View
Rob Podlasek, Training Director
Poster sessions at this year's virtual Summer Institute Conference were… virtual. And awesome! Presenters created 28 short 3- to 10-minute videos highlighting a program activity, a fun activity, a how-to, or a classroom best practice. Many of the videos also have links to handouts or other resources. If you didn't get a chance to view them at the Conference, the videos are still available!
To view the virtual poster sessions, go to: https://www.literacymn.org/poster-sessions
Here are the topics:
Language and Literacy:
Citizenship Website
Writing in the Online ESL Classroom
Introduction to the *New* English Unlocked Curriculum from Literacy Minnesota
Three Ways to Use Children's Picture Books in Adult English Language Classrooms
Journeys: An Anthology of Adult Student Writing
Math:
A Metacognitive Routine to Promote Independent Math Learning.
Math Warm-Up Activities
Meet Students Where They Are in Math and English with EdReady
What is My Open Math?
Digital Literacy:
Using Classkick to Strengthen Basic Computer Skills
Digital Literacy in the Age of COVID
Creating a Digital Equity Plan
Northstar Digital Literacy Curriculum Resources
Tagging in Northstar – Separate Learners by Class or Instructor with this New Feature
Updates to the Northstar Learner Tab
Getting Started with the Northstar Admin Portal
Distance Learning:
The Distance Learning Website: Your One-Stop DL Resource Hub
Do It Yourself DL: Using an LMS to Learn How to Use an LMS to Build Teacher-Created Distance Learning Courses
MobyMax: Dare to Try the Interactive Lessons Module
Tech Tips:
What's New in Windows 11
Using Jamboard in Google Meet
Bookmark Moving Made Easy
Less Eye Strain Using Windows Night Light
Program Management:
Build your Capacity and Mentor Emerging Leaders: Host a Digital Equity or Literacy Leader VISTA
Advancing Adult Education Teacher Expertise with Hamline's ABE Licensure Program
Are You Ready for In-Person Volunteers Again?
Adult Literacy Hotline
Creating a Bridge to Healthcare Class with a PCA Certificate
Rob Podlasek, Training Director
Literacy Minnesota