Support Staff Conference: Registration Now Open!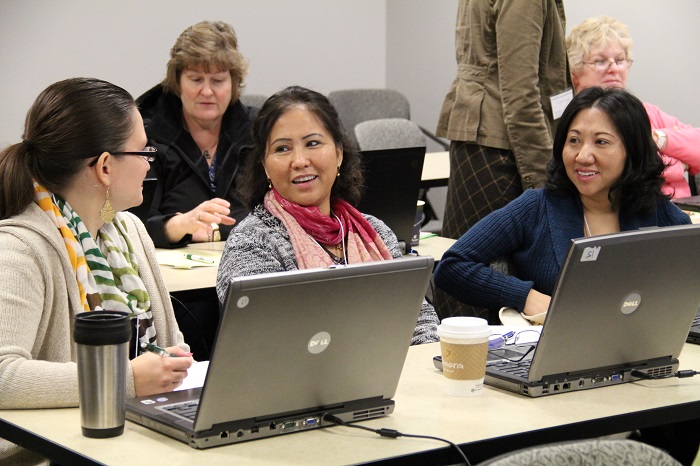 October 2, 2018
Support Staff Conference: Registration Now Open!
Marty Olsen, Coordinator
You don't want to miss this year's Support Services Conference! The members of the SPARC team have been working toward building another fantastic event, to be held November 8 and 9, 2018.
The Minnesota Department of Education, SPARC (Support Professionals Advisory Resource Committee), and Southwest ABE are sponsoring this training opportunity for ABE program support staff. CEUs indicating attendance will be provided.
Conference Location
Minnesota Department of Education
Conference Center B (entrance located behind Target, next to National American University)
1500 Commerce St., Roseville, MN 55113
Conference Highlights
PRE-CONFERENCE – Thursday, November 8 will be filled with trainings necessary for all staff, including:
ABE Foundations for New Support Staff
CASAS Implementation Training
TABE Implementation Training
All staff, including intake staff and teachers are invited to attend the test implementation trainings. The trainings will include information on the new assessments: CASAS GOALS and TABE 11&12.
STATE UPDATE – The Friday, November 9 keynote of the conference will include state updates provided by our state ABE staff.
CONCURRENT SESSIONS – Following the keynote, there will be a variety of sessions to choose from, including:
TABE Online: Are you considering transitioning to TABE Online? Our TABE Rep will share information about the process of online testing.
SiD Updates: Come with your questions and let the experts answer them and give you some Excel tips.
Accountability 101: Learn the details of how we are measuring success with the federal government, what Measurable Skill Gain is, when we are expected to have data and reports in the database, and what the other new rules of the ABE game are!
Testing Implementation Panel: Various programs, including DOC, will share their practices and experiences in transitioning from TABE 9&10 to TABE 11&12.
Critical Issues in Assessment – The New Tests: Are you ready to transition to the newly-approved assessments? TABE 11&12 and CASAS GOALS have both received approval to be used for NRS reporting purposes, and have been added to the Minnesota Assessment Policy. Come to this session to learn more about these assessments.
Bridges to Benefits: Since education is only one of the many needs that our students face, there will also be a presentation on this project which links families and individuals to public works supported programs.
Depression and Suicide Prevention 

– 

Promoting Hope, Problem-Solving, and Resiliency: This session will provide information about the prevalence, causes, risk factors, and warning signs of suicide.
Marketing and Persistence Panel: This panel will share best practices in marketing your program to increase student persistence
AND MORE!
Conference Information
Overnight Stay: A block of rooms has been reserved at the Country Inn & Suites on Snelling (2740 Snelling Ave N, Roseville, MN 55113 / 651-628-3500). You can reserve a standard queen room for $114.00 plus room tax per night. You must ask for the MN Dept. of Education rate. The block will be held until October 23.
Marty Olsen, Coordinator
SW ABE / MN ABE Assessment