Teacher Verification Model: A New Pathway to Distance Learning
March 8, 2021
Teacher Verification Model: A New Pathway to Distance Learning
Adam Kieffer, Distance Learning Team
The Teacher Verification Model (TVM) is a new pathway for Minnesota ABE teachers and programs to count proxy hours for asynchronous lessons that have been verified by a TVM-certified teacher.
Why TVM?
Teachers have been developing and delivering innovative distance lessons for a long time, and we're excited to finally be able to provide this new opportunity for recognizing their work. TVM certified teachers will be able to collect proxy hours for instruction and learning activities that are asynchronous, but are not part of an approved DL platform or course, such as:
Out-of-class assignments that support or extend synchronous class activities (e.g., for blended, hybrid, or "flipped classroom" instructional models)
Teacher-created video lessons and online activities for independent learning and practice
Lessons delivered through paper packets
Prior to the TVM pathway, there were two options for programs to collect proxy hours: 1) Approved DL platforms, and 2) Teacher-created online courses (new in May of 2020). This flowchart (also shown below) illustrates the three options for proxy hours ABE programs now have.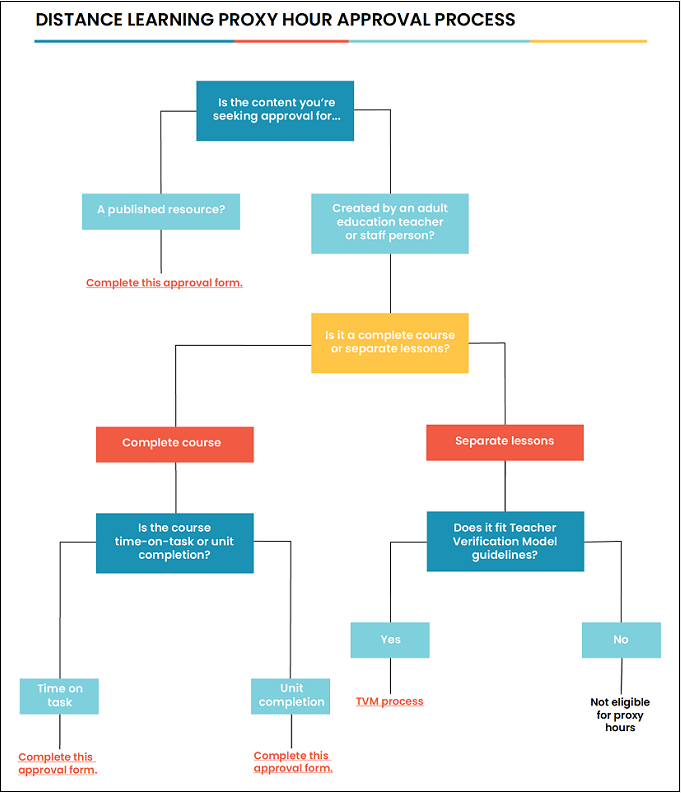 TVM Certification
There are several steps necessary to becoming a TVM certified teacher.
Step 1: Complete DL Basics training. This means you completed the old DL Basics online course, DL 101, or Modules 1-5 of the new Distance and Blended Learning Basics for Minnesota Adult Education online course.
Step 2: Complete Module 5 (MN ABE Distance Education Policy and Procedures) and 6 (TVM in Practice) in the online course.
Step 3: Submit an example TVM lesson & materials; pass quiz (at the end of Module 6).
Step 4: Participate in the TVM Certification Webinar (90 minutes): March 31 or April 29, 2021.
Step 5: Receive your TVM Certification and CEUs.
Step 6: Share your TVM certification CEUs with your program manager and ensure your TVM certification is recorded in your staff history in SID.
Step 7: You're TVM Certified! Use the TVM process and TVM Lesson Checklist and Submission Form. You can start assigning TVM lessons and collecting proxy hours for your students' completed TVM lesson work.

TVM Lessons
When you're a TVM Certified teacher, you can develop TVM lessons and materials and assign them to your learners. You'll submit details about each of your TVM lessons to the DL Team through the (short and easy!) TVM Lesson Checklist and Submission Form. You'll verify your learners' completion of the lessons and provide feedback. And you'll record learners' proxy hours for the lessons in SID. There will soon be a new TVM Lesson Log available on every class Summary page in SID that is similar to the other printable attendance sheets. You will download or print the TVM Lesson Log and use it to record your students completed TVM lessons and proxy hours. You'll still need to enter those proxy hours in a Distance Learning designated class SID.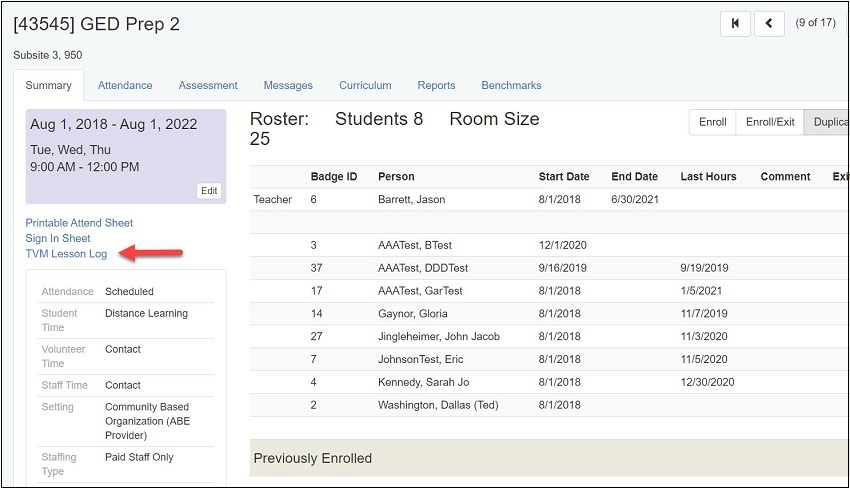 What counts as a TVM lesson?
There are many possibilities! TVM Certified teachers will develop lessons to fit their learners and teaching context. TVM lessons should include some element of instruction, practice, and assessment. Alternatively, TVM lessons can be part of a larger unit of instruction which includes all of these elements. They can be digital or physical, or a combination of both. What asynchronous instruction and activities are you already offering that might fit in the Teacher Verification Model?
Learn more and get TVM certified!
For answers to all your TVM process questions and more, you are invited to enroll in the new Distance and Blended Learning Basics for Minnesota Adult Education online course. If you don't yet have a Literacy MN professional development account, click on the Continue button and you will be prompted to create a new account. Please check out the TVM session recording from the March 5 Un-Regional Conference on the MN ABE Professional Development YouTube channel (http://tinyurl.com/mnabepd).
Adam Kieffer, Distance Learning Team
Literacy MN & Hubbs Center/St. Paul ABE