Teamwork Makes the Dream Work for TIF 2.0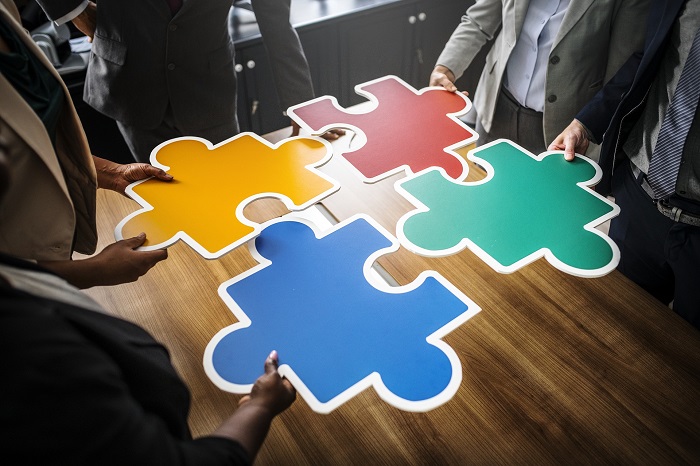 September 12, 2022
Teamwork Makes the Dream Work for TIF 2.0
Stephanie Sommers, ACES Coordinator
Background on ACES and TIF
The goal of ACES (Academic, Career & Employability Skills) is to support instructors in teaching the hard-to-define, yet make-or-break skills needed to succeed in the workplace, college, and community.
The Transitions Integration Framework (TIF) is the cornerstone of ACES, and it is one of three documents comprising the state-adopted content standards for Minnesota Adult Education. It was first published in 2013 and revised in 2016.
TIF 2.0 Advisory Team
Team work makes the dream work, or so the saying goes. And when that team is comprised of eight amazing and dedicated ABE teachers and administrators from programs around Minnesota, they are a dream to work with indeed!
This summer the TIF 2.0 Advisory Team has been guiding the work being done on updating and improving the ACES/TIF resources available on the ATLAS website, and project leads Stephanie Sommers and Heather Turngren could not be more impressed with their efforts. Our dream team consists of the following ABE practitioners:
Elizabeth Bennett – Literacy Minnesota
Dan Bruski – Adult Options in Education
Matt Dehmer – Moorhead ABE
Terri Ferris – Arrowhead Economic Opportunity Agency (AEOA)
Jamie Kriel – Cedar Riverside Adult Education Center
Theresa Luther-Dolan – Arrowhead Economic Opportunity Agency (AEOA)
See Moua-Leske – Marshall ABE
Kali Pelham – Sauk Rapids ABE
Exciting updates to the TIF!
Since coming together this summer, the team has reviewed all of the original ACES/TIF sample lesson plans and offered ideas for enhancements. We are trying to use a diversity and equity lens as we make these changes, and our team has given us a lot to think about – from trying to be more gender neutral, to intentionally including diverse images of people at work, to recording listening scripts using a variety of accents.
The team has also helped us to refine a new ACES/TIF lesson planning template that we are very excited to share with the field at the upcoming Fall Regional events in Mankato and Walker. This new template includes ideas for differentiation strategies; delivering instruction in a variety of formats (e.g., online, hybrid, and face-to-face); focusing on diversity, equity and inclusion (DEI); and social and emotional learning (SEL).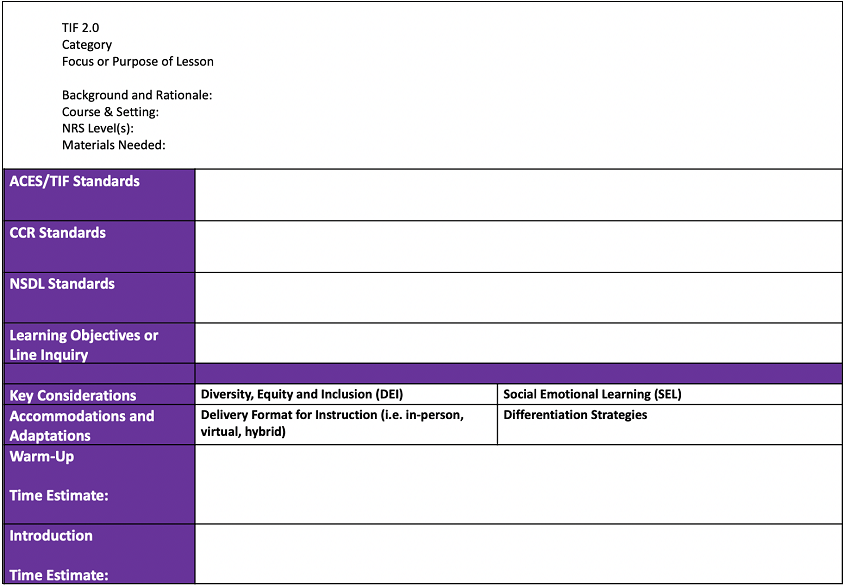 Eventually, all 18 of the ACES/TIF sample lesson plans will be updated using the new template. This means that there will be three sample lesson plans (beginning, intermediate, and advanced) available for each TIF category.
We are also developing a few specialized lesson plans, including one to support Adult Diploma programs with the Navigating Systems category and another focused on Integrated Education and Training (IET) work. All of the updated lesson plans will have a consistent look and feel, and they will have the benefit of having been reviewed by experienced ABE teachers who work with students at a variety of levels and in a variety of contexts.
Find out more
If you would like to find out more about this project and check out some of the new ACES/TIF lesson plans, please join us at our upcoming Fall Regional sessions:
We will be taking a closer look at some of the newly revised lesson plans and using them as a catalyst for re-energizing our own work around ACES/TIF. We are very excited to keep moving forward with this project with the input and support of all of our ABE colleagues from around Minnesota. We hope that you will join us and become part of this important conversation!
Stephanie Sommers, ACES Coordinator
ATLAS