The "Just in Time" Evidence-Based Reading Instruction (EBRI) Resource Series: Part 4
February 7, 2022
The "Just in Time" Evidence-Based Reading Instruction (EBRI) Resource Series: Part 4
Kristine Kelly, Literacy Coordinator
This article is Part 4 in a newsletter series highlighting PD and resources for each of the four components of Evidence-Based Reading Instruction (EBRI): alphabetics, fluency, vocabulary and comprehension. Part 1 of the series dealt with alphabetics, Part 2 of the series dealt with fluency, and Part 3 of the series dealt with vocabulary word tiers and high-frequency word lists. This week we'll focus on some useful free vocabulary resources for teaching academic vocabulary and locating it in text.
Remember, useful reading resources are always available in the ATLAS Reading Resource Library.
Academic Vocabulary Instruction
In the previous article, we looked at the importance of vocabulary instruction and  3 tiers of words. For this article, we'll focus specifically on resources for teaching Tier 2 words, known as academic vocabulary, and for locating them in text.
As a reminder, at lower levels, we can help to build the foundation for Tier 2 vocabulary by exposing students in conversation, read-alouds, videos, and other oral language activities. When students reach the following levels, they can receive explicit instruction in Tier 2 academic vocabulary:
Low-Intermediate ABE (217+ CASAS GOALS and 501+ TABE 11/12)
High-intermediate ESL (211+ CASAS Life & Work)
 Explicit academic vocabulary instruction has the following characteristics:
It is done routinely.
It is taught in short, intentional lessons of 15-30 minutes.
Instruction focuses on building breadth (quantity) and depth or flexible knowledge of related words (quality).
Instruction is explicit over multiple lessons and includes modeling, guided practice, and application so that students receive multiple exposures to words in different contexts.
Taught words are frequently recycled in future instruction.
Instructional Resources
You don't have to create all your academic vocabulary instruction from scratch! There are several free resources available to support you and your students.
CrowdEd and Appalachian State University (ASU) Google Docs
This online vocabulary curriculum includes 38 lessons. Each lesson is focused on 5 Tier 2 (or academic) words and provides a Knowledge Rating Scale, definitions, synonyms/antonyms, examples, and guided practice activities. There is now a direct Quizlet link QR code that students can use for launching Quizlet on a mobile device. These lessons can be easily copied to one's own Google Drive.

Illinois STAR training Tier 2 Vocabulary Units
Nineteen comprehensive academic vocabulary units that include 10 words in each unit but can be downloaded and adapted as needed.

Vocabulary Workouts
Sixty workouts for the most common Tier 2 words from the Academic Word List. It begins with the author's Introduction and Rationale, How to Use the Vocabulary Workouts, and References. They may be especially useful in small programs or open enrollment settings because they provide stand-alone (or one-day-at-a-time) lessons.
Academic Vocabulary Timesavers!
Save yourself some time finding academic words in the text you're using with students by using the Academic Word List Highlighter and the New Academic Word List Highlighter. Both are easy to use.
Enter or copy and paste the text into the box provided.
Click submit.
The text will appear with highlighted academic words.
If the text you want to use includes many academic words, you may want to limit the number of words to teach. Consider the following: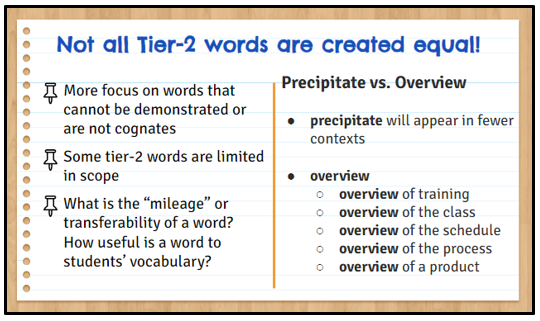 ---
ALSO: Mark your calendars for the upcoming EBRI Webinar Series with Marn Frank this winter and spring! All webinars in the series will run from 1:00-2:30pm on the following dates in 2022:
February 18
March 4
March 25
April 15
April 29
May 20
You can attend some or all of the webinars!
---
Next time, we'll take a look at the final component of EBRI: comprehension. For any questions regarding this newsletter series or EBRI in general, email kkelly01@hamline.edu.
Kristine Kelly, Literacy Coordinator
ATLAS