Thinking About Getting an ABE License? Good News from Hamline!
April 13, 2020
Thinking About Getting an ABE License? Good News from Hamline!
Betsy Parrish, Professor
Julia Reimer, Associate Chair & Professor
What's the big news?
Hamline University is pleased to announce a new credential for the adult education workforce in Minnesota!  Building on decades of work in adult teaching and learning and many certificate offerings, we are now authorized to offer the initial Adult Basic Education (ABE) license through the Master of Arts in Teaching (MAT) Initial Licensure Degree in the School of Education. This credential has been a long time coming, and we're so glad to make it available to YOU as Minnesota's adult educators!
At this point, we are only offering an initial license (for those who do not hold a teaching license in another field already). We hope that we'll soon be approved to offer the 12-credit additional license for those who already have a teaching license, as well. (Stay tuned for more news on that!)
What's involved in getting the new ABE license?
The credential is 31 graduate credits, and it's possible that previous coursework you have completed (including graduate credits for ATLAS professional development offerings) may count toward this total. The basic coursework involves: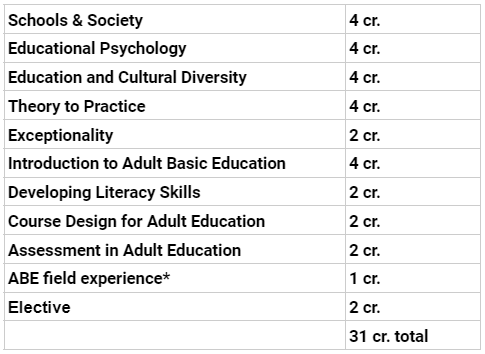 As part of the MAT Degree program, you can either stop after 31 credits with your ABE license, or go on to earn a Masters with only 8 additional credits (see Hamline website for more details).
Do you really need an ABE license?
Well, it depends!
Per Minnesota State Statute 122A.26, one must hold a valid Minnesota teaching license in order to teach in a Minnesota ABE program delivered by a school district/community education.
Other entities that deliver ABE programming (e.g. community-based organizations) are not subject to the requirements of 122A.26. All ABE providers may establish criteria in addition to these state statute requirements.  For example, a provider may require ABE teachers to hold a valid ABE license.
A school district/community organization may hire an unlicensed person to teach ESL if they have a bachelor's or master's degree in English as a second language, applied linguistics, bilingual education, or a related degree as approved by the Minnesota Department of Education. ABE providers may also establish criteria in addition to these state statute requirements. For example, some school district ABE providers require licensure for all teachers, including ESL teachers.
Where can you learn more about the program at Hamline?
Start by visiting the website for Hamline's Master's in Teaching (MAT) Initial Licensure program.
For questions regarding transfer credits and course scheduling, contact Mike Noreen, Graduate Student Advising and Success Manager, at (651) 523-2450 / mnoreen01@hamline.edu
For questions regarding course content and working in the field of adult education, contact either Betsy or Julia at Hamline:
Betsy Parrish                                                             Julia Reimer
Professor                                                                     Associate Chair/Associate Professor
School of Education                                               School of Education
bparrish@hamline.edu                                      jreimer@hamline.edu
651-523-2853                                                            651-523-2506
You can apply online through the Graduate Admission website.

Betsy Parrish, Professor
Hamline University

Julia Reimer, Associate Chair & Professor
Hamline University