Using Nearpod in the ABE Classroom
May 2, 2022
Using Nearpod in the ABE Classroom
Polina Huffman, ABE-ESL Teacher
"Our mission is to make teaching easier with interactive tools, resources, and content teachers need, all in one place." Nearpod (https://nearpod.com/) helps educators make any lesson interactive, whether in the classroom or virtual.
I teach in the classroom. Why would I want to use Nearpod?
Using Nearpod in the classroom eliminates the need for making and re-making copies. Students can have access to lessons on school devices in the classroom, as well as their personal devices outside of school. By helping students use Nearpod lessons in the classroom, teachers help students prepare for the digital world they live in.
I am only teaching online. Why would I want to use Nearpod?
Using Nearpod in a virtual classroom allows students to be fully engaged and provides a hands-on learning experience students cannot otherwise get online. By using Nearpod, every online learner answers the questions and shows their understanding of each task. At any point during a Nearpod lesson, educators can see if students are on-task. If a student is not active, the dot next to their name turns red.
I am teaching a HyFlex classroom. Why would I want to use Nearpod?
Using Nearpod in a HyFlex classroom enables online and in-person students to have the same learning experience. HyFlex students are the ones who tend to move in and out of the classroom, constantly changing between online and in-person learning. Nearpod allows them to have hands-on experience no matter which type of learning works for their lives at this time. Educators can see student responses in real-time, which allows them to quickly address misconceptions or provide necessary feedback.
I heard that I can use Nearpod to collect Teacher Verification Model (TVM) hours. How do I do that?
TVM lessons must include instruction, practice and assessment components. Nearpod gives educators a large number of content and activities to choose from.
Content: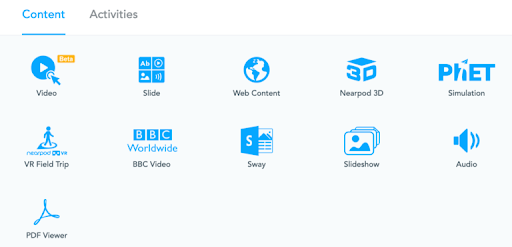 Activities: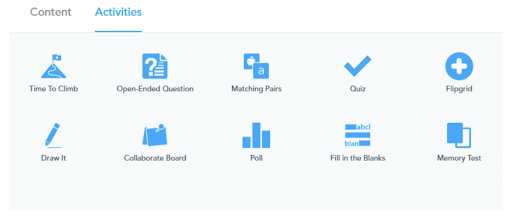 TVM lessons must allow students to submit their work and receive feedback. Nearpod works on every Internet-based platform and allows students to get immediate feedback:

Teachers get detailed post-session reports for each activity in the Nearpod lesson verifying completion:

Nearpod sounds great; but how much does it cost?
Nearpod Silver Edition is free and is great if you are planning on using one of the 10,000 pre-made lessons. Every user gets up to 50MBs of space, and can host up to 30 students per session.
Gold and Platinum Editions are not free, and are great if you want to work with your existing/new Google Slides, want to add content/activities, and plan on storing everything on the Nearpod website. You can check out the various pricing plans on their website.
I don't have that much prep time. What kind of lessons can I find in Nearpod?
No matter which edition you use (free or paid), you will find thousands of lessons, activities, and videos in the Nearpod Library. You can search the library by the: a) type of activity, b) standards, c) subject, and d) grade.
Once you find a lesson, activity, or video that you want to use in your classroom, preview it to make sure it fits your needs…

…and then simply add it to your Lessons: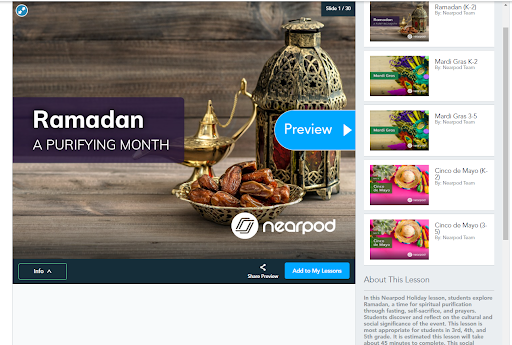 Once the lesson is in your library, you can teach it in front of class. You can launch the lesson in a live participation where you control the pace of a lesson. Or you can launch a student-paced lesson in which students work at their own pace.
I already have numerous presentations I have made in the past. Can I add content/activities to them?
If your presentations are in Google Slides, then yes! You can add Nearpod through the Add-Ons: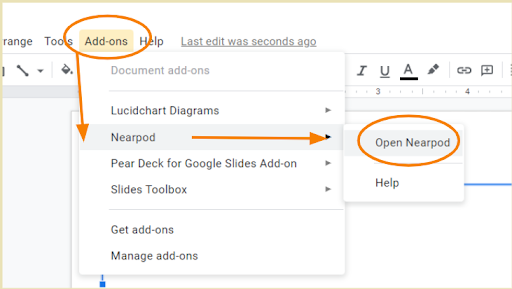 Once you are in your slides, you can add content/activities to suit your teaching and learning objectives. In this article you can find out more about each feature. More on how to create a new Nearpod lesson in Google Slides  or how to add pre-made activities.
If you don't use Google Slides, you can create and save a Nearpod lesson directly on the Nearpod website.
I would love to use Nearpod in my classroom. Can I use it with my low-level ESL students?
Yes! You can find many pre-made lessons you can use, but will need to scaffold them. You will need to teach your learners how to access Nearpod lessons on their device. You will need to teach, re-teach, and remind them multiple times how to access Nearpod.
I would love to use Nearpod in my classroom. Can I use it with my upper-level ABE students?
Yes! You can find lots of premade lessons, videos, and activities you can use in the classroom without changing anything. You can adjust your topic to the level of your students.
The bottom line is… Nearpod knows "teachers are critical to students' learning and to their social and emotional well-being. This is why…our team… do(es) everything they can to build products driven by teacher feedback and honor all student backgrounds and abilities." (Source: https://nearpod.com/about)
A recording of Polina's Nearpod webinar can be found on the MN Adult Ed PD YouTube channel:
Next TechChat Webinar:
Using Pear Deck in the ABE Classroom
Thursday, May 5, 2022
2:00-3:15 p.m. CDT
Polina Huffman, ABE-ESL Teacher
Metro North ABE