Using Remote Volunteer Tutors in the Classroom
November 9, 2020
Using Remote Volunteer Tutors in the Classroom
Wendy Roberts, Volunteer Outreach and Hotline Manager
Prior to COVID-19, Jethra Kapp, GED Math Teacher at Minneapolis Adult Education – South Campus, was dubbed the "Volunteer Queen" due to her enthusiasm and ability to effectively use volunteers in her classroom. While she claims not to be tech savvy, she has quickly transitioned her classroom to remote tutoring and continues to creatively engage volunteers in the process. Jethra joined the Using Volunteers webinar hosted by Literacy Minnesota on May 20 to talk about how she is using volunteers to provide individualized tutoring to learners remotely, the benefits and challenges of remote tutoring and tips for professional teachers interested in getting started with using volunteers to provide remote instruction.
Using Remote Volunteer Tutors During COVID-19
Jethra goes above and beyond every day to provide support to her learners and volunteers. She currently has nine volunteers providing one-on-one remote tutoring to four learners in her classroom using the platform Schoology Conferences. Most learners receive tutoring Monday through Thursday and have a new tutor each day. Jethra communicates daily with each student using the Remind app and with each volunteer by email. After each tutoring session, volunteers send Jethra an email detailing what was worked on, and then Jethra communicates the information and supplies materials to the next volunteer. This hands-on support creates a seamless and positive learning experience for students.
Onboarding
Jethra relies on current and past volunteers to provide remote tutoring. She began by emailing all of her current volunteers to ask who would be interested in working with students remotely. Six out of her twelve volunteers responded that they would be interested, and then Jethra reached out to previous volunteers. One such volunteer is someone who had moved to Texas and is now tutoring again.
Jethra's care and hands-on support to help volunteers gain the skills to be effective tutors extends outside of the classroom: she has been learning how to use the Schoology Conference platform alongside them. She found a couple of how-to videos that she has shared with volunteers, and she encourages volunteers to try it out and ask questions as needed. With some volunteers, Jethra has even jumped onto Schoology with them to walk them through the technology using screen sharing. She shared, "A lot of it has been basic troubleshooting as we go."
Benefits and Challenges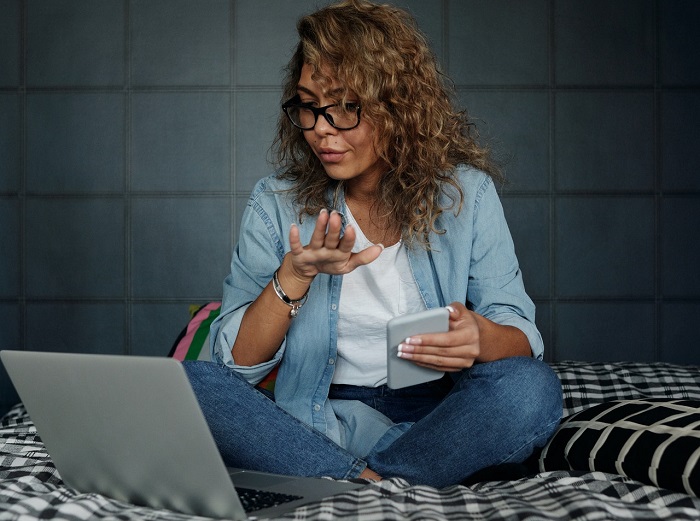 There are many benefits to remote tutoring. "The biggest benefit has been for my students to be able to continue their learning one-on-one with a designated volunteer, just as they had been doing pre-COVID-19," explained Jethra. Offering one-on-one tutoring provides individualized support to students who are at a different place in the curriculum than what Jethra is currently teaching in her classroom. Continuing to offer volunteer opportunities also helps volunteers feel connected to the school and their community. In fact, it was a couple of Jethra's volunteers who had reached out first to see how they could help even before she started using volunteers to provide remote instruction.
Remote tutoring also comes with a few challenges. Reliable technology and access to an internet connection is by far the biggest challenge, and volunteers and students all struggle with technology challenges, but everyone helps one another. Of course, remote tutoring is not the same as being in-person, but Jethra and her volunteers remain positive and make the most of screen sharing and available options.
Tips for Remote Tutoring
Jethra shared a few tips that may be helpful to professional teachers who are interested in using volunteers in their classrooms:
Reach out to people who had already been volunteering in your program and recruit volunteers who had moved away.
Reassure volunteers that they don't have to know everything; they just have to be willing to give it a try. It's a learning process and they can fine tune what they are doing as they go.
Maintain open lines of communication between all parties involved: volunteers, teachers and students.
Jethra is deeply dedicated to adult literacy and learning as is evidenced by her amazing work. She has quickly and skillfully transformed her classroom to accommodate learners during the pandemic, and she has gone above and beyond to include volunteers in continuing to provide essential tutoring services. Thank you, Jethra, for all you do to support literacy!
Watch the Using Volunteers webinar and hear from other remote tutoring leaders in ABE.
Originally published 7/13/20
Wendy Roberts, Volunteer Outreach and Hotline Manager
Literacy Minnesota