Using Wakelet in the Virtual Classroom
August 26, 2021
Using Wakelet in the Virtual Classroom
Amy Van Steenwyk, Volunteer Coordinator
What is Wakelet?
Wakelet is an online shareable space to organize and curate content. The creator of Wakelet, Jamil Khalil created Wakelet to share links and resources in a visually engaging way. While it was not designed specifically with educators in mind, educators have been quick adopters of the platform and Wakelet has responded by adding improvements and integrations that make it increasingly useful in the virtual classroom.

Wakelet offers educators a simple and fun way to curate content for their classes, and it offers learners free spaces they can access, develop and share both in and out of the classroom. I'll give some possible ways to use Wakelet in the virtual classroom at various levels. Keep in mind that many of the suggestions for higher levels could certainly be used at beginning levels as well with a little extra support.
In the Beginning Classroom
Share Classroom Resources
In my virtual classroom of high-beginning learners, Wakelet has given me a quick and easy space for learners to access anything they need for class. Adding and removing content from a Wakelet page is fast and simple. I send students a link to our class Wakelet collection which has the resources they need for the current lesson, review and links to online platforms. Initially, I used a Google site for this purpose, but found Wakelet to be more flexible and visually engaging to work with. Our class Wakelet collection is unlisted and only findable to those with a link.
Link to Other Collections

Why re-invent the wheel? Other organizations and individuals have created collections that are interesting and useful for our students. One resource that we use regularly are the stories from the Marshall Leveled Reading Program. We use the Level A collections to access the online supports for the stories to practice vocabulary, listening and comprehension questions. One of the dozens of integrations Wakelet has added is the Microsoft Immersive Reader. This allows the students to have text read to them and includes other helpful features, such as highlighting parts of speech and syllables, providing definitions, and translating text into many languages.
In the Intermediate Classroom
Share Work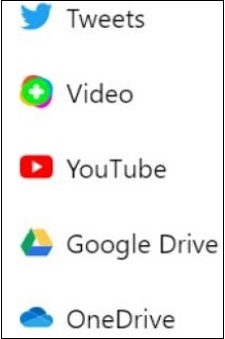 With Wakelet, you can invite collaborators. The easiest way is to send a link to students, which brings them to a collection. They have options to share content, including a written text, a video-recorded comment, or a photo. Students can share photos on a theme, comments in real time, or post their work to an unlisted collection. Students do not need an account to collaborate in this way.
Beginning Research
Teachers can help develop students' research skills by creating a curated Wakelet collection of research resources for students to access.  Alternatively, students can share their links or content as collaborators and build a collection together. (See this example of a collection about food and culture in Somalia.) Through settings, the teacher has the ability to rearrange or delete student contributions if necessary.
In the Advanced Classroom
Portfolios
Wakelet is an ideal space for students to learn the skill of creating digital portfolios. Students can add their portfolio items to a Wakelet collection and can copy that collection to their own personal Wakelet or share the link to their portfolio with anyone they wish. They can change the design of their portfolio by adding images and text and by changing the layout.
Group Projects
Teachers can set up Wakelet collections for group projects. Students in the same group can share content that they create or find. One fun culminating activity is to display the QR code for each group's collection so the groups can immerse themselves in exploring the content their classmates have created and curated.
Lesson Plans
Teachers can develop Wakelet collections of step-by-step lesson plans. (Check out this lesson plan on scatter plots). These can be set up for independent work or as daily or weekly activities. Teachers using LMS platforms can embed Wakelet collections into their platforms. Students can access resources and lessons in Wakelet collections even after their classes and LMS access have ended.
Beyond the Virtual Classroom
Wakelet has other powerful uses in education. One popular function is to keep track of professional development resources and collaborate with staff or professional learning communities. Another use is to create newsletters, which are engaging and simple to make using Wakelet. Some popular ed tech organizations use Wakelet collections to share their resources, such as MergeEDU's Wakelet collection of virtual reality resources. (See their Refugees Studies in Virtual Reality collection.)
For examples, tips and steps to get started, check out the TechChat webinar from June and the resources in the Wakelet collection for the webinar, which include the slides, tutorial videos and links to Wakelet collections for educators. Twitter users, follow #WakeletWave #TheHumansAreComing #WakeletCommunityWeek to connect with other Wakelet users. Wakelet's YouTube channel is also a helpful resource and is frequently updated.
FAQs
What does Wakelet cost?
Wakelet is free with unlimited numbers of collections and "spaces" you can create.
Do students need an account?
Students do not need to have an account to view collections. They also can collaborate on collections without an account. In the long-term, students would benefit from having their own accounts and learning to curate and organize links for their own purposes. The function of copying a collection is only possible if you have your own account.
Can you import classes from other LMS?
Wakelet recently added this feature and hopes to expand it in the future. Currently, teachers can import classes from Google Classroom, Clever and Microsoft Education. Students automatically get student accounts which have more protections. Currently, adult learners would have protections that would apply to students under 13 years of age since there is no differentiation by age for student accounts yet.
Originally published 7/26/21
Amy Van Steenwyk, Volunteer Coordinator
Cedar Riverside Adult Education Collaborative