Volunteer at Math-on-a-Stick at the Minnesota State Fair!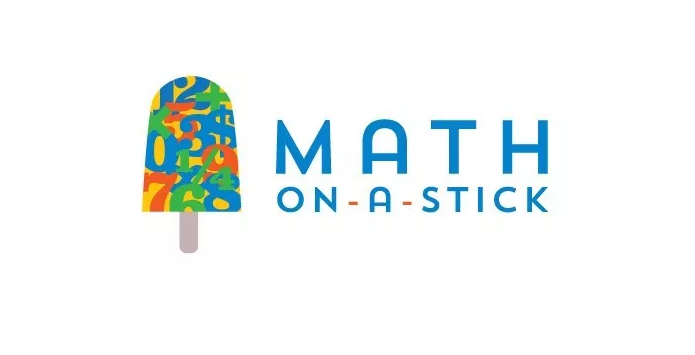 May 10, 2019
Volunteer at Math-on-a-Stick at the Minnesota State Fair!
Abby Roza, Instructor
Amber Delliger, Instructor
One thing Minnesotans know is that everything is better on a stick… and math is no exception! Math-on-a-Stick is a chance for everyone to explore numeracy ideas by investigating patterns, finding sets of objects, grooving around in math dances, jumping on integers, creating mathematical art… and so much more! The entire event is intended to use the Big Minnesota Get Together to bring everyone together over math.
Don't identify as a mathematician quite yet? No worries! There are no right or wrong ways to do these activities and a host of fellow volunteers are there to help support you as you work!
Volunteer at Adult Numeracy Network Day (August 24, 2019) at Math-on-a-Stick at the Minnesota State Fair!
Details:
What: Math-on-a-Stick is a playground of Mathy Activities at the fair. Volunteer during one or more shifts at Adult Numeracy Network Day at Math on a Stick
Who: You, your partner, your grandma, your kids, your friends .. anyone who is interested in spreading the joy of math with others. Volunteers DO NOT need to know anything special about math. Math-on-a-Stick is a playful environment; your job is to support children and families engaging with the space, not to teach them math.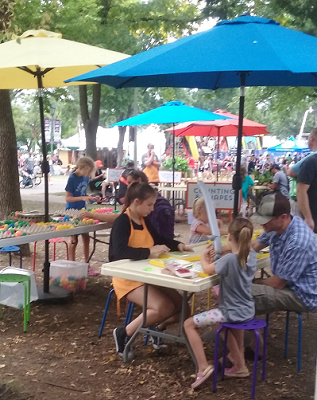 When: Saturday, August 24, from 8:30 to 11:30, 11:15 to 2:15, 2:00 to 5:15, and/or 5:00 to 8:15.
Where: Math-on-a-Stick booth at the Minnesota State Fair
Why: Raise awareness of adult numeracy, enjoy meeting other educators, and/or you like playing math games with others
How: Simple! Sign up for the day HERE >>
Added Perks:
Each volunteer gets a FREE ticket into the fair
All those who register to volunteer at a shift on August 24th will receive a FREE one-year membership to the Adult Numeracy Network
Can't make it on the 24th? You can volunteer any day of the fair! Check out https://talkingmathwithkids.com/mathonastick/ to learn more!
What Is Math-on-a-Stick?
This summer, on Saturday August 24, there will be the first ever Adult Numeracy Network (ANN) Day at Math on a Stick. ANN is a national community dedicated to quality mathematics instruction at the adult level. (Learn more here! https://www.adultnumeracynetwork.org/) We are so excited that they are planning an event in our own backyard!
Math as Joy and Creativity
You know those glorious moments of teaching when the learner is engaged, puzzling or playing and you can stand back and enjoy their learning? You know the moment where you ask a question and the learner shares a small profound insight? Math on a stick is studded with those little moments …. and the smell of Pronto Pups and mini doughnuts.
Math-on-a-Stick is hands-on fun with shapes, patterns, counting and movement. Aimed at kids, it provides a free place for fairgoers of all ages to experience math in a new way. You'll find lots of play and creation, but no worksheets or workbooks here.
Annie Perkins describes it here:
https://arbitrarilyclose.com/2016/08/27/math-on-a-stick/
Greta Bergman describes it here:
https://countjoy12.wordpress.com/2018/09/12/math-on-a-stick/
Talented Educators Alongside Talented Educators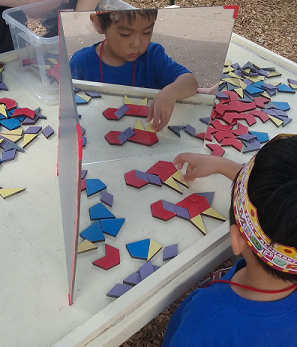 Another layer of joy at Math on a Stick are the other volunteers. Many are educators, mostly from around Minnesota, some from around the country. Hearing them engage with the adults, kids and families is a delight. We love hearing how they answer or do not answer questions, what questions they ask, and noticing when the engage a visitor and when they stay out of the visitors way. We also love seeing different ways families engage their kids, let their kids do their thing or play alongside them.
Fun
It's also simply a good time. A day outside at the fair, the parade goes by, delicious fair foods. The activities are all play. It's a low-key way to inspire mathy smiles to people of all ages. Join us!
Photo credits:
Abby Roza, Instructor, Ramsey County Correctional Facility
Tom Kroeger, Instructor, Roseville Adult Learning Center
Abby Roza, Instructor
Ramsey County Correctional Facility
Amber Delliger, Instructor
Metro North ABE