Welcome to Minnesota Adult Education, Neill Allard!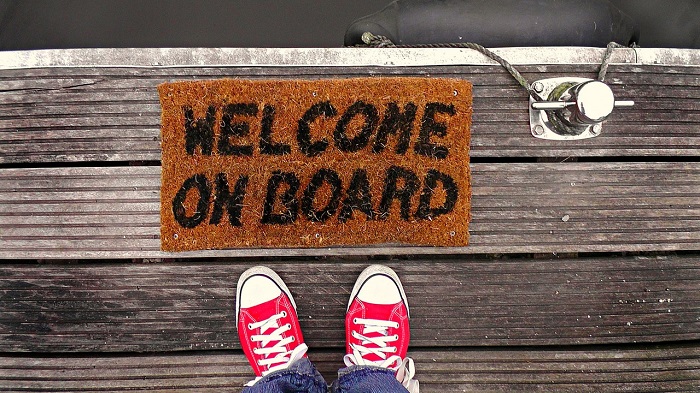 September 20, 2021
Welcome to Minnesota Adult Education, Neill Allard!
Brad Hasskamp, State Adult Education Director
Neill Allard, Communications and Administrative Support Specialist
The Adult Education Team at the Minnesota Department of Education is excited to announce that Neill Allard (they/them) has joined our team as the Communications and Administrative Support Specialist!
Neill has a broad set of skills and experience that make them a great addition to the team, as you can see below. Neill joined the team on Monday, August 30, 2021, and is a quick learner and eager to contribute. They have quickly taken on many duties to help the team get organized and serve the adult education field better.
Please help us welcome Neill Allard to Minnesota Adult Education! Brad had an opportunity to ask Neill some questions so you can get to know them better.
Question: Neill, what's a fun fact about yourself?
If you ask me where I'm from, I'll probably tell you "mostly Ohio," but I have lived/worked in a variety of states, including Ohio (three separate times in adulthood!), New Jersey, central Illinois, and Minnesota. I have been living in Minnesota since 2017. I have lived in Minnesota longer than any other state in my adult life without moving. After more time here, I am looking forward to being able to say I am mostly from Minnesota soon!
Question: What does your work day look like? What tasks and activities are you doing?
One of the things I have loved so far is that each day I start the day and I don't know what exactly will happen: calls and emails direct my day. It could be GED records requests, verifications, adding people to the email lists, scheduling meetings, and other types of questions. There's already a lot of variety in tasks, which is exciting! As more people learn that I am here and as I learn more, I am anticipating getting more types of questions over time.
Question: Who should contact you and for what purpose?
You can contact me for GED records requests (checking in or sending in a rush/urgent request), GED verifications, and GED age waivers.
If you are on the ABE newsletter lists and you need to update your email address, let me know. If you or a new staff person need to be added to our ABE mailing lists, I will add you to the list!
Also, if you have questions for the adult education team at MDE and are not sure who to ask, reach out to me and I will connect you to the right person and help get an answer.
I can be reached at neill.allard@state.mn.us or (651) 582-8890.
Question: What work were you doing before joining the Adult Education Team at the Minnesota Department of Education?
Most recently, my past three roles were temporary administrative support roles in the finance industry, which was not where I had expected to end up, so I'm very glad to be in education now! Since 2014, I have done a lot of temp and contract jobs, in a variety of office assistant and other administrative roles in a lot of different industries, from finance to genealogy to property management. I have also had stints doing procedure writing and document design, as well as a year in graduate school where I learned that while I wanted to be in education, my place was not in front of the classroom.
Question: What drew you to the adult education position?
I was looking for state government jobs because I wanted to work in public service. With a public service job, I knew that any direction I went, the work would be meaningful and important, and I would get to have a positive impact in people's lives. This particular role stood out to me because of the focus on communications and administrative work, which fit my experience, plus I was looking for a job in education, so it felt right. It felt like I had arrived in the right place!
Question: During the first couple weeks on the team, what have been some of the biggest lessons learned?
One of my favorite things is learning how many options there are to serve people. Being more aware of how wide of an impact the adult education work has is amazing. When people call me, they share their story and it reminds me how important the work is.
On another note, there are so many acronyms!
The level of intricacy that it takes to work at the system level is complex, but it is so rewarding to see how the pieces fit together to create a statewide educational system!
Question: What do you enjoy most about working in adult education?
It is so rewarding serving people who have not been served by other systems. I am making sure that people get what they need to go where they want to go. In doing so, I am able to offer people options that will work for them. There are so many options for people to help them achieve their goals and I enjoy being able to work to connect them to those opportunities!
Question: Looking ahead, what are you most excited about learning?
I am most excited about learning more details about the Minnesota Adult Education system and what it has to offer. I want to be an advocate for people as they move through the system, and an advocate for the system itself to those who also don't know much about it (yet!). It is exciting being part of the state team and working with people across the state.
Question: What would you like to say to the Minnesota adult education field?
I greatly admire and appreciate the work that adult educators are doing across the state! Being in front of the classroom and working with adult learners every day is amazing work; I am in awe of what you do! Whether you are a teacher, administrator, support staff, support network provider, or in another role, thank you for all of the work and expertise you pour into your programs and into serving people.
Brad Hasskamp, State Adult Education Director
Minnesota Department of Education
Neill Allard, Communications and Administrative Support Specialist
Minnesota Department of Education