What is Pear Deck and How Can I Use it in My Classroom?
June 6, 2022
What is Pear Deck and How Can I Use it in My Classroom?
Laura Moyer, ABE/ESL Instructor
What is Pear Deck and How Can I Use it in My Classroom?
Pear Deck is a digital tool that allows teachers to create interactive activities for students in online and in-person classes. It is accessible as an add-on when using Google Slides and works seamlessly with Google Suites allowing teachers to use it as an asynchronous or synchronous teaching tool. Pear Deck offers a paid version and a free version; this article focuses on the free version and using Pear Deck as an online teaching tool, even though it is perfectly adaptable to in-person teaching as well.
Why We Use Pear Deck
As an online instructor, one of the key features of Pear Deck is its ability to provide tools that engage students with lessons. Teachers can use it to create interactive lessons in which they see real-time student responses and, in turn, can provide immediate individualized feedback to students. It can be used to create assessments, quick checks for understanding, short writing activities, vocabulary matching, and more. The primary ways in which we use Pear Deck include:
Student engagement
Informal assessment of student learning
Multiple modes of communication
Community building
"Real-time" view of student learning and understanding
"Real-time" teacher feedback to students
What technology skills do students need in order to engage with Pear Deck?
Before creating a lesson or activity in Pear Deck, you will want to make sure that your students are capable of doing the following tasks:
Use the Chatbox in Google Meet or Zoom– Students need to be able to open the chatbox in order to find and click a link that you post there for them.
Navigate Tabs– When a student clicks a Pear Deck link, it will open in a new tab. You may want students to be able to tab back and forth between the Pear Deck and your online meeting so you will want to make sure that students are comfortable doing this.
Basic use of a mouse and typing.
You may want to even create a lesson in which you teach students how to use Pear Deck before you use Pear Deck to teach other content. By teaching the technology first, you will ensure that students are more successful completing lessons in which they use the technology to learn other content. Furthermore, a good rule of thumb is to start with something simple before advancing to more complicated tasks.
Getting Started with Pear Deck
To begin using Pear Deck, you will need to open a new Google Slide document. Once in your Google Slide document, go to the "Add-ons" tab and click "Get add-ons."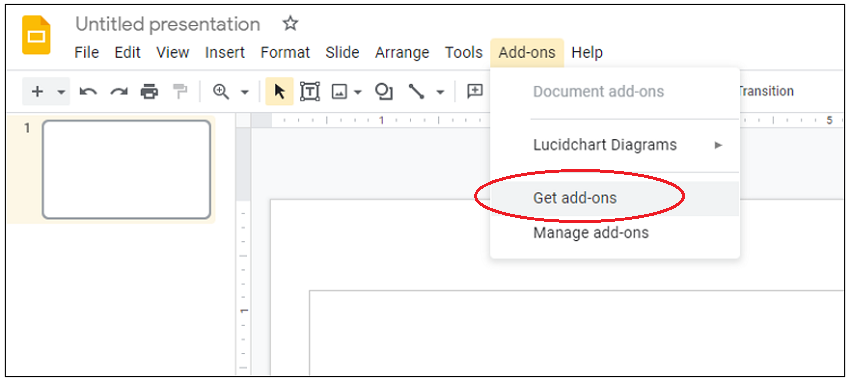 On the next screen that appears, choose Pear Deck from the list (if it doesn't show up right away, you can search for it using the "Search apps" bar at the top).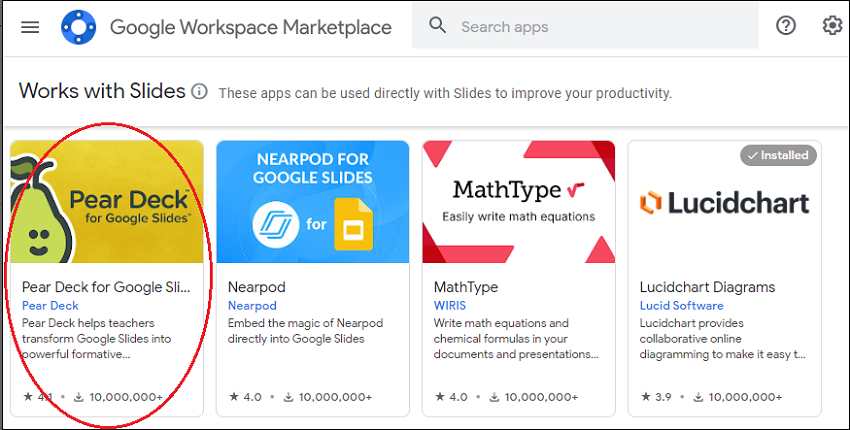 What do I do once I'm in Pear Deck?
Once you have accessed Pear Deck within Google Slides, you can start to explore what you can do with it and how it can be incorporated into your online lessons. The image below shows you what your screen looks like once you have opened the Pear Deck Add-on in Google Slides.
Click on "Our Template Library" to see the pre-made templates that Pear Deck has available.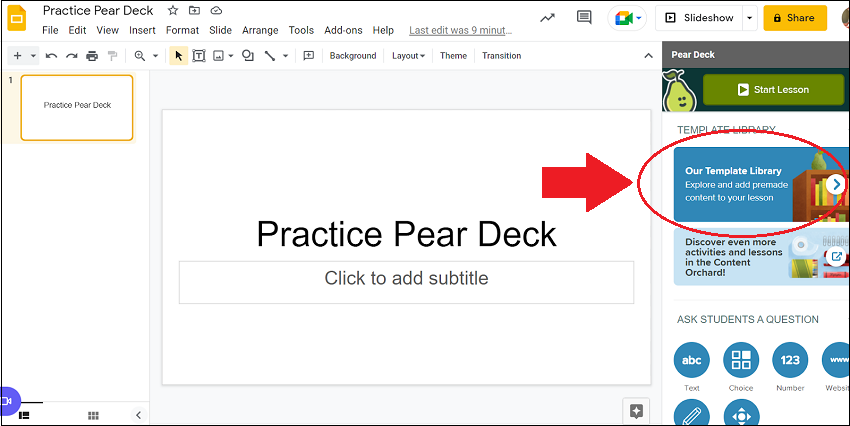 The template library will open with three additional options to choose from including, "Beginning of Lesson," "During Lesson," and "End of Lesson." Within each of these, are templates that engage students at each point in the lesson. As a new Pear Deck user, you may want to choose one activity for the beginning of your lesson, or you may select one for the end of your lesson. Either way, as previously mentioned, start small; you do not need to pick a template or activity for every part of your lesson when you and your students begin using Pear Deck.
What if I don't want to use a Pear Deck Template?
If you do not want to use a Pear Deck template, another way to create a simple activity is to choose one of the question types that Pear Deck provides and insert it into one of your Google Slides. In the Pear Deck sidebar, you can select from one of six different ways to ask and have students respond to a question:
Text
Choice
Number
Website
Draw
Draggable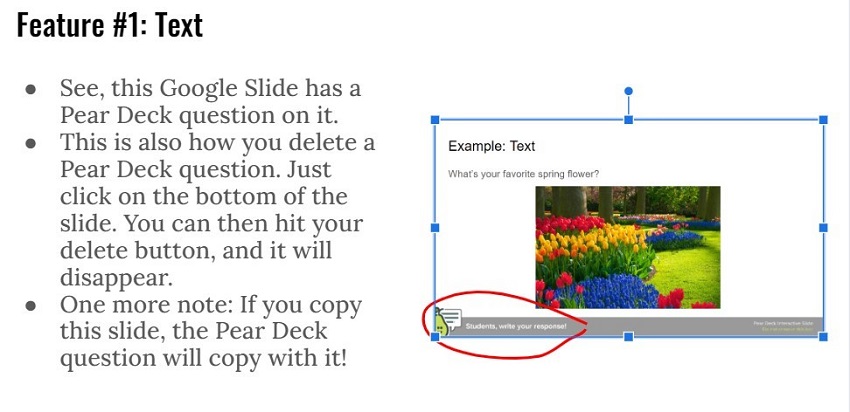 What else should I know about Pear Deck?
Pear Deck is an extremely robust tool that provides teachers with multiple ways to engage students in a lesson. It provides multiple pre-made templates and resources, along with complete lessons. It takes some time to learn how to use it both for teachers and students, but it is definitely worth it if you want to create engaging, interactive lessons that provide you with immediate feedback and understanding from your students. Although this article does not go into every aspect of this program, hopefully it encourages you to try it out, start small, and become an avid Pear Deck user!
Where can I get more information and training?
Below are two images that provide you with additional teacher resources and a couple of examples of Pear Deck's premade lessons. In addition, numerous Pear Deck "how to" videos are available on YouTube.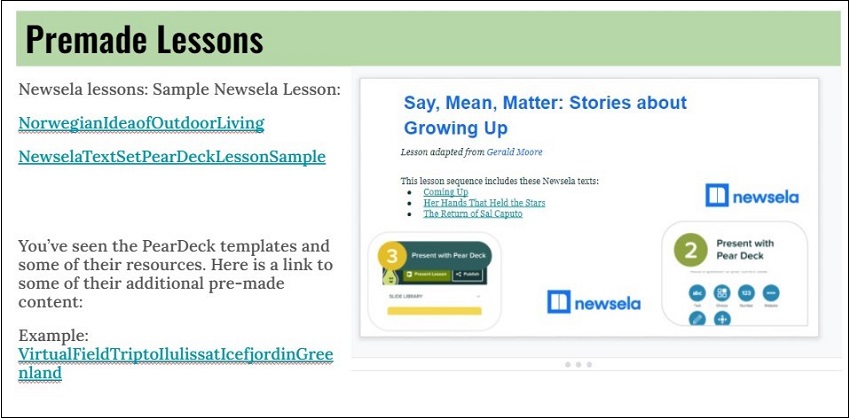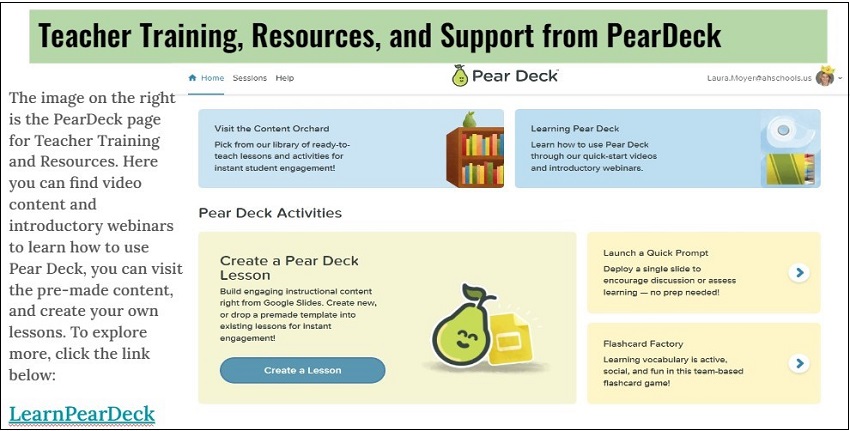 Additional Resources:
Watch the video of Alison Bey and Laura Moyer's TechChat on Using Pear Deck in the Classroom.
Got to LearnPearDeck for webinars, custom professional development sessions, Knowledge Base help articles and more.
Laura Moyer, ABE/ESL Instructor
Metro North ABE/Columbia Heights Fridley