ABE Voices Across the Distance: Snapshot of the New Normal from a Pre-GED / High-intermediate ESL Teacher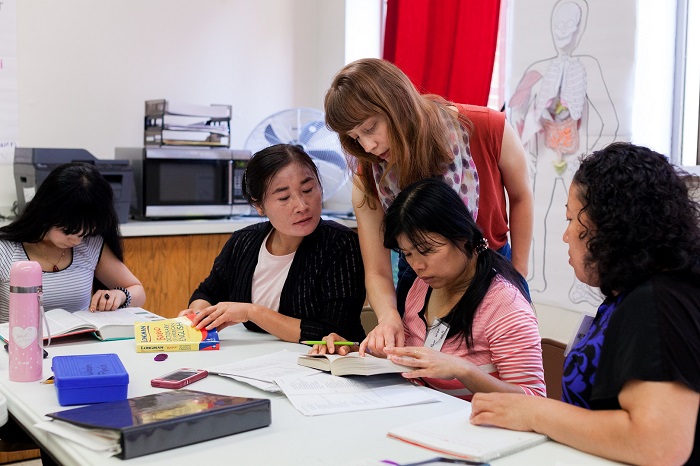 April 6, 2020
ABE Voices Across the Distance: Snapshot of the New Normal from a Pre-GED / High-intermediate ESL Teacher
Andrea Echelberger, ESL Training Coordinator
Minnesota schools are closed; how are MN ABE educators responding? The MN ABE Connect newsletter is featuring a series of interviews with ABE practitioners from across Minnesota on how they are delivering instruction and support during this time. This week, we hear from Jessica Jones, a High Intermediate/Pre-GED teacher working at Open Door Learning Center in St. Paul.
---
Jessica Jones – Open Door Learning Center, St. Paul
Describe your class and students.  What does it look like?
Right before we closed down the school I'd successfully split my class into two levels; a pre-GED class and a high intermediate advanced class. Now I'm back to having everybody again. I currently have 40 students on my roster. Levels in my class range from high intermediate ESL to someone who has passed their GED math test.
How familiar were you/your students with Distance Learning (DL) prior to this public health crisis?
Prior to the school closing, all of my students were quite familiar with MobyMax; we regularly used it as an in-class tool, and we would run special incentive programs where they could earn prizes by completing a certain number of hours during the school's one or two week breaks. I also had students connecting with me via text message regularly. Right now, I have a lot of things going, but that's in part because some of those things were already established.
How are you organizing your life/teaching?
When I found out last week that the school would be closed until at least May 5, I stayed up way too late one night putting together a class website. I wanted to have a landing page for everything that my students are working on (check out Jessica's website at https://teacherjessicajones.weebly.com/).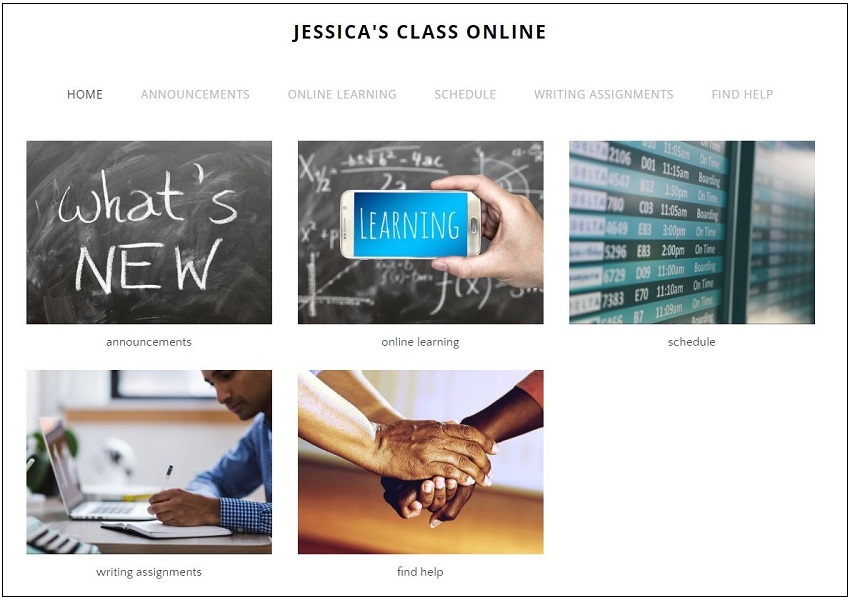 On Mondays, Wednesdays, and Fridays I have a two-hour block of office hours that's open for one-on-one video conferencing. Generally, I reach out to students to suggest that we meet during this time, but sometimes learners reach out to me if they are having trouble understanding a lesson in MobyMax. I picked this time because this is when I have screen time/childcare for my kids, so that's when everything has to happen!
On Tuesday, Thursday, and Saturday we do group lessons online with Zoom (for guidance see Teach Online with Zoom: Beginners Tutorial) for an hour. So far I do two types of lessons: grammar and speaking lessons, or writing lessons. I create a lesson in PowerPoint and present it, with lots of opportunities for me to stop and call on students to keep it participatory.
Because not all students log in at the same time, I've found that it's good to have a warm-up activity that students can do independently while people are logging in. For example, in my last writing lesson, I had the learners do a sentence correction activity with a pencil and paper on their own, and then I used the annotation tool and we went through the sentences and corrected them together. So far I've had up to 14 people on at once, and it worked really well. Once the lesson is over, I do a Loom video (Record a Presentation with Loom) where I walk through the lesson by myself and post it on my website so that students who couldn't attend the lesson can watch it on their own time (lessons are posted under Online Learning).
What are you prioritizing with your teaching at the moment?
The hardest thing for students to get right now is speaking and writing, so that's what I'm focusing my lessons on. Each week we're having a grammar and speaking lesson, and then a writing lesson with a follow-up writing assignment for them to work on in between. For the ones who want to do more, there's plenty of opportunities for them to do reading through MobyMax that doesn't need a lot of involvement from me. So I'm really focusing on the production side of things.
What seems to be working well?
The thing that I'm particularly proud of is that I actually have more students on my roster now than I did when we closed. I was able to re-engage some students who had been home with infants or had other situations where they couldn't come to class. Even if they're not all doing some form of distance learning, they've all signed up for my new message system, and I've had contact with every single one of them at least once. They're still engaged in some respect, and that's the win. The grammar and speaking lessons have both gone really well, and that's exciting.
What are you struggling with?
Time management, mostly! Right now it takes an hour and a half to create an hour-long lesson; I'm hoping now that I have a template it will take less time. I also had to abandon some technology that just wasn't working for us anymore. The first two weeks I realized that using Google Voice as my text messaging platform and Google Hangouts as my video platform wasn't sustainable. Google voice was great for connecting with students one-on-one, but I needed a platform where I could send out broadcast messages and have students respond to just me.
I've now successfully moved almost everyone over to Remind, which allows students to communicate one-on-one with me, and also lets me send out message blasts to everyone. For video conferencing, Google Hangouts wasn't keeping up. People couldn't log on and were getting kicked off, and it just didn't work for us. I'd spent a lot of time during those weeks getting everyone on to it, and then I had to start over again and get everyone on to a new video platform. Luckily this group of learners is pretty tech savvy, but I still had to spend a lot of time on the phone with some learners walking them through it.
What advice do you have for your colleagues?
Emphasize connection over academic goals. It's important to work to establish connection with all of your students first. The first couple of weeks I just made calls and sent messages asking people how they were doing, if they had enough food, if everyone in their family was healthy. We've only had one week now with an established schedule, but that initial connection was crucial to keeping everyone engaged. Also, pick one thing that you're going to do and get good at that. You can add to it later; it doesn't have to be perfect right away.
---
Watch the MN ABE Connect newsletter to keep up with everything that is happening! Check out next week's article in this series as we feature another Minnesota ABE practitioner's approach to education during the school shutdown. Know someone who is doing amazing work? Reach out to Andrea Echelberger (aechelberger@literacymn.org) to share. See below for other ways to stay connected.
Share on Schoology
Share on the COVID-19 & Distance Education Schoology group what you are doing in your classrooms in the "Resources" section under Instructional Resources Related to COVID-19 or FREE Instructional Resources for Various Subjects. We can all use our ideas to inspire the work of others! The materials from this article will be available in Instructional Resources Related to COVID-19 in the Schoology group.
Not a member of the COVID-19 Schoology group? Instructions for joining are below in the green box!
Zoom & Security
Interested in using Zoom in your teaching? Read Marisa Geisler's recently updated article Using Zoom for Teaching or Meeting Virtually? Secure Your Sessions with These Simple Steps to learn how to easily use the security features in the Zoom platform.
ATLAS website
In addition to posting COVID-related resources in the Schoology group, ATLAS is compiling instructional resources on our website! Check it out: https://atlasabe.org/resources/covid-19/
Free ESL and GED/Diploma Webinars
Join your colleagues for a GED/Diploma webinar focused on proctoring practice tests and other relevant testing info during this time of distance education.
And join Andrea Echelberger, Patsy Egan, and special guests as we tackle the current puzzle: teaching ESL from a distance!
Virtual coffee breaks
And please join ATLAS for informal virtual coffee breaks! Let's connect during these distanced times and check in about how things are going with instruction.
How to Join the Schoology Group
If you already have a Schoology account:
Log into your account
Click on the "Groups" tab at the top of the page
Click "My Groups" on the upper right side
Click on "Join Group"
Enter the access code 4PQM-9XNK-FRF7X
 If you do not have a Schoology account:
Scroll to SIGN UP at the top right and sign up as an

Instructor

Once you've registered, click on the "Groups" tab
Click "My Groups"
Click on "Join Group"
Enter the access code 4PQM-9XNK-FRF7X
Important Follow-up Below:
Once you have joined
Click on Notifications in the upper right corner
Set your email notifications by checking the appropriate boxes to make sure you find out when updates to the group are posted and when people comment on your posts
Browse the Discussions tab for facilitated discussions, as well as Updates and Resources
Post new comments, questions, or information to the above
Andrea Echelberger, ESL Training Coordinator
Literacy Minnesota