ABE Voices Across the Distance: Snapshot of the New Normal from Neighborhood House
April 13, 2020
ABE Voices Across the Distance: Snapshot of the New Normal from Neighborhood House
Andrea Echelberger, ESL Training Coordinator
Minnesota schools are closed; how are MN ABE educators responding? The MN ABE Connect newsletter is featuring a series of interviews with ABE practitioners from across Minnesota on how they are delivering instruction and support during this time. This week, we hear from three teachers working in the Neighborhood House ESL/GED program: Cara Berger, Kaija Bergen, and Eva Moline.
---
Cara Berger, Kaija Bergen, Eva Moline – Neighborhood House, St. Paul
Describe your program. What does it usually look like?
Kaija: We have classes offered three times a day: morning, afternoon, and evening. The morning and afternoon classes are taught by staff, and the evening classes have two staff teachers and volunteers who teach the intermediate and advanced classes. There is a different volunteer each evening for those two classes. All of the classes have a shared curriculum that we collaborate on creating. We offer beginning level through GED level classes.
How familiar were you/your students with Distance Learning (DL) prior to this public health crisis?
Cara: DL was really varied between classes, mostly dependent on level. Kaija and I have used vocabulary.com as a supplement to our classes quite a bit in the past, so that was easy to carry forward. DL was used more commonly in the higher level ESL and GED classes, mostly ReadTheory and it seems like the students who were using it before we shut down are continuing to use it. Our manager, John, tried to incentivize distance learning. We have Neighborhood House t-shirts and Target gift cards that people can earn if they do a certain number of hours. Some students get really into it and they get all the prizes.
What does your program look like now?
Kaija: Our program was closed rather abruptly, and we didn't have time to get any students signed up for DL platforms if they weren't already on one already. In order to keep providing instruction, we created a school-wide website where all of our learners can go to find weekly lessons and check in with us during office hours (https://neighborhoodclasses.weebly.com/). Our website is as simple as possible with no logins for beginning and intermediate learners.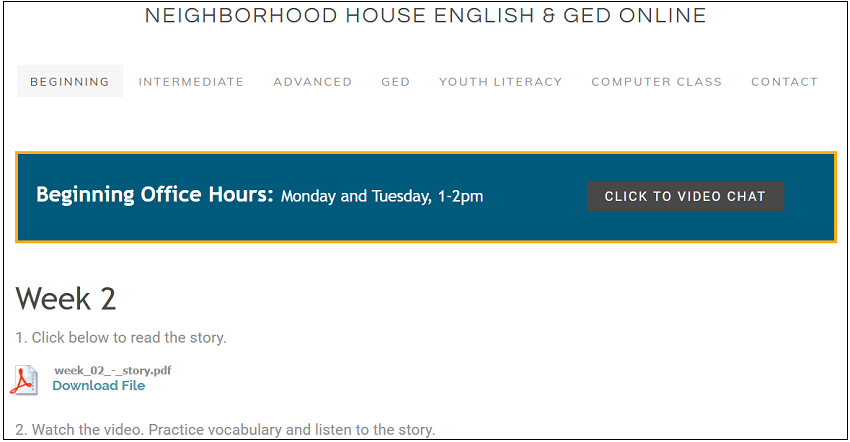 However, for our advanced and GED students, we introduced CommonLit on the website. I've been really pleased with it for the higher levels so far. I created the students' accounts, but once I sent them their login information, most of the students were able to get on it and have been using it. The website also has a Zoom link for office hours that learners can use to communicate with their teacher. Most of us teach multiple levels, but for the sake of simplicity, on the website we've assigned each of us to one level.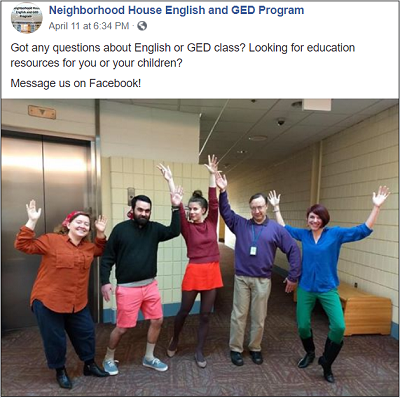 We're trying to coordinate thematically across levels for the sake of consistency. This week was health, next week is food, etc. The grammar points for each week are coming out of the featured reading. It's important to try and keep things as coordinated as possible since it's a limited learning space.
Cara: For the intermediate level, we've been using a lot of Newsela for the readings. Each reading has questions at the end. I have one student who will text me 1-A, 2-C, 3-B, 4-C ? to me so that I can check her answers and see if she's gotten them right.
Eva: For our beginning level learners, communication was a challenge. We were able to have a colleague in our Family Center who speaks Spanish call all of our students and give them information about the website. She also told them about our Neighborhood House Facebook page where we've been posting a lot of resources, such as housing help.
What are you prioritizing with your teaching at the moment?
Kaija: Our goal has been to try and create as many access points as we can. To that end, we have our website, and we're also using Remind and Google Voice, as well as reaching some students on email and some on Facebook. We're trying to connect with the students in whatever way works best for them. We've also been pretty low pressure, which was why we selected the one lesson a week asynchronous website. We wanted students to feel that if the website is something that contributes positively to their lives right now, it's there for them to use, but we didn't want them to feel pressure or have to deal with school deadlines.
Eva: I'm prioritizing creating materials for the website and reaching out to students. I've been texting instead of calling them, so students can copy and paste the message into Google Translate instead of trying to talk to me on the phone. I send the website link right in the message so that learners can click on it and go directly to the website. On the website, the lessons are set up in a one, two, three order so that it's very clear what the steps are. The website also opens directly to the beginning page, so lower level learners don't have to do a lot of navigation.
What seems to be working well?
Cara: Staying in contact with my students, even if it's just casually. I made a point of calling everyone the first week to check in and had long conversations with all of them. Since then I've been in contact with everyone a couple times a week. Even if it's just little things, like wishing them well for the weekend. I've gotten a lot of positive feedback about that. Some students have questions about homework, some have questions about resources, some just want to talk.
Eva: The videos seem to be popular. A lot of students are telling me that they watched the video. Having the teachers in the video also seems to be working, because it's someone that they're familiar with and not a stranger. We can use routines that we used in our classes in the videos.
Kaija: We've made all of our students' accounts on the DL platforms, and we've standardized them. All of the students have the same password, and we've tried to standardize logins across platforms. So even if students are using multiple platforms, they have the same login information rather than trying to remember multiple passwords and usernames. This makes it really easy for us to recover passwords and logins for students.
What are you struggling with?
Kaija: The office hours for Zoom is something that we're still all getting adjusted to. As teachers, we're learning how to use Zoom, and then getting students to feel comfortable using it. We're also still in a learning curve to get students to understand what office hours are and what you do during them. And we're continuing to figure out how to make the website content interactive. Trying to create a video where students can listen but also participate is something we're trying to do, but I still think we've got a lot of potential for growth.
Cara: All of us have had a steep learning curve when it comes to making videos. Now I feel comfortable with it, but when I did it the first time, I did a lot of different takes and it was frustrating and confusing. Should I be formal, should I be conversational, and it's weird talking to yourself. It's gotten better, but it wasn't my favorite thing to start. I find myself being reminded of Dora the Explorer with the vocabulary sections in the videos, "repeat after me!" But so far the students seem to like them. We use Screencast-o-matic for our videos. We like that it creates a lot of different formats, even with the free version. You get a link, an MP4 download, and you get an embed code, which was important for our Weebly website.
What advice do you have for your colleagues?
Cara: I would focus on being in contact with your students. People are confused and it's a tough time. Students are really busy and overwhelmed, and there's a lot of pressure that wasn't there before. I think staying in contact and maintaining a sense of community is the most important thing. Try to meet the students at the level of engagement that they want to be at. Whatever it is, that's great.
Kaija: On the ATLAS website I remember reading that implementing DL is more like growing a tree than building a house. That's a really good metaphor! For us, the idea is to start and get something growing. Maybe it will branch into something else or we'll be able to expand as we go. The students are learning, we're learning, and we're all on the same path together. If you put something up and you look back on it later and think "oh boy that was terrible," that's OK! Everyone's figuring this out as we go and trying things out is the only way to get better.
Eva: Embrace flexibility, and be ready for ambiguity. We're teachers and really gung-ho about getting students started with DL, but I talk to students and they're busy with their kids and stressed right now. It's important to be able to step back and let students decide how much they want to do at their own pace.
---
Watch the MN ABE Connect newsletter to keep up with everything that is happening! Check out next week's article in this series as we feature another Minnesota ABE practitioner's approach to education during the school shutdown. Know someone who is doing amazing work? Reach out to Andrea Echelberger (aechelberger@literacymn.org) to share. See below for other ways to stay connected.
Zoom & Security
Interested in using Zoom in your teaching? Read Marisa Geisler's article Using Zoom for Teaching or Meeting Virtually? Secure Your Sessions with These Simple Steps to learn how to easily use the security features in the Zoom platform.
Share on Schoology
Share on the COVID-19 & Distance Education Schoology group what you are doing in your classrooms in the "Resources" section under Instructional Resources Related to COVID-19 or FREE Instructional Resources for Various Subjects. We can all use our ideas to inspire the work of others! The materials from this article will be available in Instructional Resources Related to COVID-19 in the Schoology group.
Not a member of the COVID-19 Schoology group? Instructions for joining are below in the green box!
ATLAS website
In addition to posting COVID-related resources in the Schoology group, ATLAS is compiling instructional resources on our website! Check it out: https://atlasabe.org/resources/covid-19/
Free ESL and GED/Diploma Webinars
Join your colleagues for a GED/Diploma webinar focused on keeping GED and diploma students engaged and persisting toward graduation during this time of distance education, including GED testing at a distance.
And join Andrea Echelberger, Patsy Egan, and special guests as we tackle the current puzzle: teaching ESL from a distance!
Virtual coffee breaks
And please join ATLAS for informal virtual coffee breaks! Let's connect during these distanced times and check in about how things are going with instruction.
How to Join the Schoology Group
If you already have a Schoology account:
Log into your account
Click on the "Groups" tab at the top of the page
Click "My Groups" on the upper right side
Click on "Join Group"
Enter the access code 4PQM-9XNK-FRF7X
 If you do not have a Schoology account:
Scroll to SIGN UP at the top right and sign up as an

Instructor

Once you've registered, click on the "Groups" tab
Click "My Groups"
Click on "Join Group"
Enter the access code 4PQM-9XNK-FRF7X
Important Follow-up Below:
Once you have joined
Click on Notifications in the upper right corner
Set your email notifications by checking the appropriate boxes to make sure you find out when updates to the group are posted and when people comment on your posts
Browse the Discussions tab for facilitated discussions, as well as Updates and Resources
Post new comments, questions, or information to the above
Andrea Echelberger, ESL Training Coordinator
Literacy Minnesota