An Introduction to Blended Learning with CommonLit: Part 2
January 4, 2021
An Introduction to Blended Learning with CommonLit: Part 2
Tammy Twiggs, Instructor
In Part 1 of this series, I introduced a working definition of Blended Learning, with a focus on  "what" it is and a rationale for using it with the CommonLit website. In Part Two of this series, I would like to share my best successes for the "how" of building robust Blended Learning lessons using Common Lit and a "Remote Blended Learning" model developed by former principal Eric Sheninger: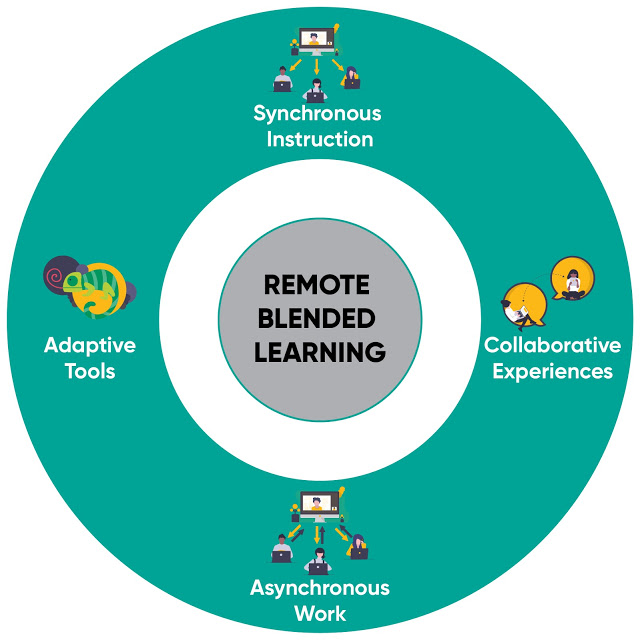 (Sheninger, E., 2020. Retrieved December 14, 2020, from http://esheninger.blogspot.com/2020/04/remote-learning-teaching-tips.html)
In Part 2 we will delve more deeply into the "how" and "why" of using CommonLit for Blended Instruction.
CommonLit is an ABE-approved state platform, but it was developed for K-12 instructors. However, please do not let that deter you because CommonLit is truly a "Cadillac" platform when it comes to creating Blended Learning lesson plans that align with CCRS standards. The fact that the website is still free to use amazes me because as an educator, it is challenging to find an online curriculum with such an array of features to assist me in building my lessons plans.
Whether you plan to build a unit around a text set and an essential question, or if you just need a stand-alone text, CommonLit has an extensive library of texts from the 3rd grade to the 12th grade reading level. There are numerous search features that are very teacher-friendly to utilize when searching for text(s). A teacher can search for texts in numerous ways:
Genre
Grade level
Literary device
Text set
Theme
Each text is selected for alignment to the Common Core, which is  the basis for the CCR Standards. While the Informational and Literary texts are my go-to favorites, there are additional text genres, such as Poetry, Memoir, Speeches, and Primary Source documents. With such a wealth of text genres, CommonLit is an excellent source of GED preparation.
Step 2 – Create "Pre-Reading" Collaborative Experiences with Asynchronous Work
Before reading the text(s), it is critical to create some pre-reading activities that allow learners to interact with the content in collaborative ways online. For my pre-GED and GED classes, which are blended L1 and ELLs, I have found that Google Classroom is a wonderful way to engage my learners.
Typically, I send out a notice in Google classroom the Sunday before classes with a specific asynchronous task for learners to do before attending the synchronous Google Meet. For example, in one recent unit about The Greenhouse Effect, with the essential question, "What impact do Greenhouse gases have on people and the environment?" I asked learners to log in to Google classroom, click on a link to EdPuzzle, watch a video while they answered questions, and then respond to a writing prompt in Google classroom after viewing the video. As they watched the video, they began to think about The Greenhouse Effect in a simplistic way, and to voice their initial opinion by answering a written prompt.
This Remote Blended Learning approach enables learners to both work asynchronously on a "bite size" chunk of complex content, and then collaborate via a written response and by reading the responses of their classmates. The next logical step would be to have learners respond to other classmates' responses, collaborating on the content before engaging in a Google Meet.
In her article, What Your Pre-COVID Course Design Was Missing, Annie Peshkam explains that "optimal learning occurs when educators are not the ones primarily generating and transmitting information (Peshkam, 2020). In order to engage and motivate learners in a virtual educational environment, teachers need to create many collaborative learning opportunities. These interactions are vital to keep learning student-focused, which is critical for adult learners. Peshkam's article includes 8 collaborative activities to use either asynchronously or synchronously. (https://hbsp.harvard.edu/inspiring-minds/cooperative-learning-practices)
Step 3 – Synchronous Instruction and Adaptive Tools
Regardless of whether you are teaching in a traditional brick and mortar setting or virtually with Zoom or Google Meet, ABE teachers have the added challenge of creating engaging instruction. Using a CommonLit text for the base of your instruction is a wise choice since the texts are aligned to the CCR standards and cover numerous themes and topics that are highly engaging for learners.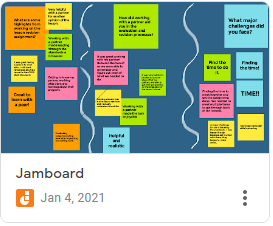 Using adaptive tools during synchronous instruction helps scaffold the learning and provide entry points for all learners in reading, writing, speaking and listening. For example, using the CommonLit text and an annotation tool, such as Adobe Acrobat, Google Docs, or Microsoft Word, the teacher annotates portions of the CommonLit text as part of the synchronous class lesson, providing opportunities to model and practice fluency, decoding and encoding of challenging words, vocabulary and context strategies, and comprehension strategies. Adaptive tools, such as Jamboard, breakout rooms, Google Forms, PearDeck, Desmos, and many others enhance the virtual learning experience by providing collaborative experiences, making Remote Blended Learning a highly effective instructional model.
Step 4 – Asynchronous Work Via Independent Learning
The key to Blended Learning is to connect the synchronous learning to asynchronous learning. By using a CommonLit text for the base of instruction, learners can proceed to the website after class and continue reading the text while engaging in scaffolded activities to practice independent reading for fluency, vocabulary, and comprehension.
One of my favorite tools in CommonLit is the Tool for Guided Reading questions. Teachers can turn this tool on to give learners an opportunity to pause and reflect on what they are reading. After reading a portion of the text, the learner cannot proceed without answering a Guided Reading question. Because Guided Reading is a way to support learners in reading complex text by providing them a way to process their thoughts, I turn it on for all of my learners when they are working on the text asynchronously.
Finally, there is a Summative Assessment for each text, including at least one text-dependent Writing Prompt. I can use the Summative Assessment as critical data to drive my instruction for the next class meeting. The student data help me adjust and differentiate for my learners while still supporting them in reading complex text.
---
Don't forget to check out Part 1 of this article, where I provide a simple exemplar of what instruction would look like with Blended Learning.
And stay tuned for Part 3 of this article series on Remote Blended Learning with CommonLit, where I will explore the features in CommonLit and explain how to build a course.
Tammy Twiggs, Instructor
Saint Paul Hubbs Center