Building the Ship While Sailing It! Learning Models: How to Make Decisions and Shift as a System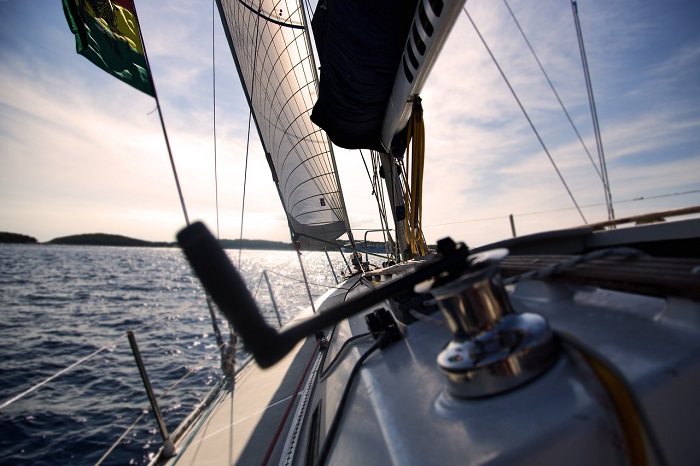 November 29, 2021
Building the Ship While Sailing It! Learning Models: How to Make Decisions and Shift as a System
Lindsey Pust, Numeracy & Special Projects Coordinator
to change (verb):

replace (something) with something else, especially something of the same kind that is newer or better
Change is hard! And I think it's safe to say that we have all experienced our fair share of change over the last 18 months. However, as hard as change can be sometimes, there are instances where change actually brings about a newer and better way of doing things.
On November 9, we held the second webinar in our Administrator Webinar Series: Building the Ship While Sailing It! Learning Models: How to Make Decisions and Shift as a System. The main objective of this webinar was to connect with fellow ABE administrators around selecting learning models and guiding staff through system shifts.
A huge thanks to Karen Wolters from Mankato ABE and Renada Rutmanis from St. Paul-Hubbs Center for joining us as panelists! Karen and Renada shared valuable insights about how their programs are tackling the challenging but essential question of what programming should look like post-pandemic shutdown. While the answer is not one-size-fits-all, there are certainly key themes that emerged:
Keep it learner-centered. Whatever decisions are made regarding programming, learner needs must be the central component. Survey students to ask what kind of learning model is ideal for them. Not only does this address learners' needs—which is why ABE exists—but a learning model is more likely to ensure attendance if the delivery model and class times accommodate learners' schedules and busy lives.
Be willing to experiment. There are a lot of factors to consider when choosing and implementing learning models, especially when embarking into uncharted territory. Trying something and then needing to make tweaks is normal. Additionally, if there are instructors in your program who like to experiment with cutting-edge teaching practices, let them lead the way and work out some bumps in the road before implementing program-wide changes.
Look at the big picture. Take time to gather data specific to YOUR context so that you can make the most informed decision about what learning models to adopt. For example, consider factors presented in the following slide: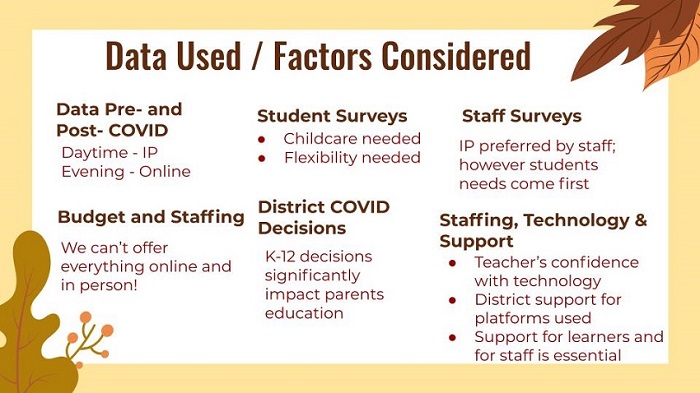 Be flexible. Not only is it important that staff and administrators stay flexible in the ever-changing landscape of teaching, but it is also important to consider the flexibility of the programming we offer. How can we creatively use our resources to offer flexible learning options for our students to better meet a variety of learner needs? Consider the following model examples: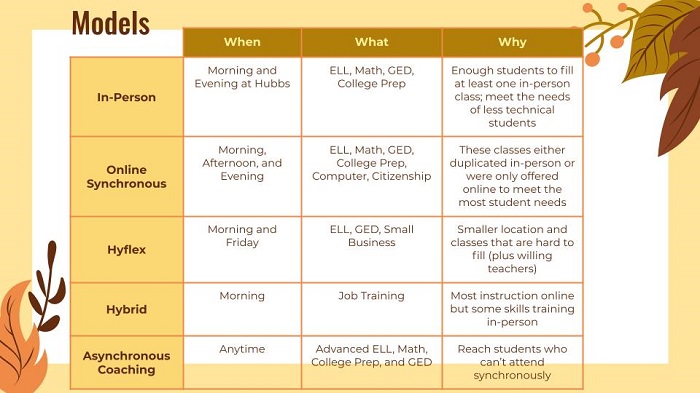 Embrace the "new normal." Change is uncomfortable, especially when it requires moving from theory to practice. Recognize that students and staff need grace during this time, as change can bring up feelings of fear and grief. However, recognizing that serving our learners best means NOT going back to the way things were can help ease the transition.
Perhaps the best example of this is the essential use of technology: whether embracing a HyFlex model to accommodate more learners' schedule and preferences or whether requiring all learning materials to be accessed from an LMS—even for in-person classes—we are setting the expectation that digital literacy is vital in the world now and for the future. Plus, should we ever have to transition to solely online learning again, students and teachers alike will be well-prepared!
For more detailed accounts of what Karen and Renada shared about their learning models and system shifts, check out the presentation slides and/or watch (or re-watch!) the webinar recording.
Administrator Webinar Series
The purpose of the Administrator Webinar Series is to address daily challenges and questions that administrators may face. Get information here on the first webinar in the series, So How's It Goin' Out There? Supporting & Supervising Staff at a Distance.
Then join us in February for our third webinar in this series!
Topic: Enrollment trends, instructional models and recruitment strategies
February 23, 2022, 1:00-2:00pm CST
REGISTER NOW >>
Save the date! The fourth webinar in the series is scheduled for April 20, 2022, 1:00-2:00pm CST – Topic TBD
Mighty Networks
Also, be sure to join our Administrators / Managers group on Mighty Networks! It is a great place to ask questions of and share resources between fellow administrators.
Learn more about how to join Mighty Networks here.
Lindsey Pust, Numeracy & Special Projects Coordinator
ATLAS