Cultural Competency Resources for Adult Education
April 8, 2021
Cultural Competency Resources for Adult Education
Yixiu Chen, ATLAS library curator; Literacy MN Learning Centers Manager
Marisa Squadrito Geisler, ATLAS Operations Manager
ATLAS unveiled its new online Cultural Competency resource library in October 2020, and many resources have been added since that time. Our hope is that this library will be a useful resource for those working in the field of Adult Education to build on their knowledge and ability to implement antiracist practices, LGBTQ+ inclusion, and trauma-informed practices in their classrooms and programs.
Library structure
In order to help you find specific resources, the library is organized into several main topics, categories and subcategories. For example, under Anti-Racism in ABE you will find three categories, two of which have additional subcategories (click on the plus signs to expand them). We also recently added categories and resources under the topic of Trauma-Informed Practices.
We are still working on building out the LGBTQ+ Inclusion in ABE section, so stay tuned for resources in that area. In addition, please note that the Disabilities in ABE section will lead you directly to the website of PANDA – Minnesota ABE Disability Specialists. We believe that this is a critical component of cultural competency and equity, but our colleagues at PANDA are best equipped to provide resources and assistance in that area.
Finally, keep in mind that you can also search for resources by using the search function found at the top of all resource library pages. This search tool allows you to filter your results by several different criteria.

You can:
choose from defined lists of Topics (tags) and Types (such as Classroom Activities, Lesson Plans, Videos, and so on);
narrow your search to a specific library; and also
search by keyword(s).
New resources of note
Learning for Justice
We would like to highlight of one of our recently posted resources, Learning for Justice, which is listed under Anti-Racist Instruction in the Culturally Sustaining Practices subcategory.
Formerly known as Teaching Tolerance, this is a free educational resource for educators. Teachers can find pre-made free lessons, learning plans and teaching strategies on topics around identity, diversity, justice and social action. Although these materials were created for K-12 teachers, they can be easily adapted to an ABE setting.
Their Classroom Resources section includes free lessons, learning plans, student texts and tasks, teaching strategies, film kits, printable posters, and a learning plan builder. There are also professional development resources, articles and publications to support practitioner self-education. For example, the recent article After Atlanta: Teaching About Asian American Identity and History, by award-winning educator Elizabeth Kleinrock, "shares the conversation she started with students the day after the attacks in Atlanta and recommends resources anyone can use to teach about Asian American history and identity."
Reducing Stress and Promoting Mental Health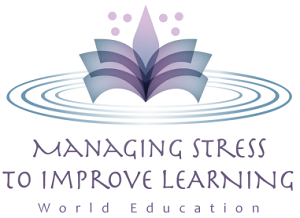 With all the stress and anxiety that the global pandemic, recent social uprisings, and anti-Asian hate crimes have brought, it seems appropriate to point out a resource in the Instructional Approaches category under Trauma-Informed Practices. There you will find a resource from World Education titled Reducing Stress and Promoting Mental Health in the ABE/ESOL Classroom.
This PDF resource provides research-based, trauma-informed practices to help teachers create safe and stable learning environments for learners in their ABE/ESOL classrooms. Fostering a safe learning environment helps facilitate learning, as well as building trust between teachers and learners. The PDF includes information and activities in the categories of:
Classroom Environment
Rituals and Routines
Classroom and Program Policies
Classroom Content and Teaching Strategies
Program Support
Connecting to Community Resources
Professional Development
Have a resource to recommend?
Resources are being continually added to this library, so if you have recommendations for resources or would like to see more resources in a particular area, please feel free to reach out to Yixiu with your suggestions at ychen@literacymn.org.
Have questions about navigating the ATLAS website?
Please contact Marisa at mgeisler02@hamline.edu.
Upcoming PD opportunities: World Education webinars
In addition to exploring the ATLAS resource library, you may be interested in an upcoming webinar series on implicit bias that was just publicized. This April, World Education is launching a three-part series of webinars that will examine how implicit racial bias shows up in adult education and creates inequity for learners. This series will highlight several areas in the field where the implicit bias exists, and suggest ways of dealing with them. These webinars are free to attend, with the option to join for just one, two, or all three.
April 13, 2021, 3:00-4:30 PM Central Time: "Implicit Bias"

April 20, 2021, 3:00-4:30 PM Central Time: "Classroom Strategies for Talking about Race"

April 27, 2021, 3:00-4:30 PM Central Time: "Action Steps for Programs and the Field Addressing Racial Equity"
Yixiu Chen, ATLAS library curator; Literacy MN Learning Centers Manager
ATLAS / Literacy Minnesota
Marisa Squadrito Geisler, ATLAS Operations Manager
ATLAS