Get It Right Off the BATT!
September 12, 2015
Get It Right Off the BATT!
Marn Frank, Literacy & STAR Coordinator
Beginning Alphabetics Tests and Tools (BATT) was developed by Marn Frank, ATLAS Literacy & STAR Coordinator, and Kristin Perry, Hmong American Partnership ESL teacher and ATLAS Consultant. It was also piloted by a group of MN ABE/ESL reading teachers, who contributed their insightful feedback, teacher-tested tools, and inspiring testimonials.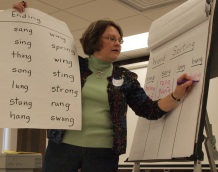 BATT strives to provide a "principled" system for ABE/ESL teachers wanting to develop their students' knowledge of Roman alphabet letters, English letter-sound patterns, sight or high frequency words, and transfer of those letter-sound-word skills to text fluency and comprehension. This 71-page resource includes:
Teacher-friendly tests for determining known and unknown skills
Evidence-based reading instructional practices, orders, approaches, and lesson plans for teaching unknown skills.
Teacher-tested lists of other activities and materials
Time-saving teacher resources
The five lesson plans are based on proven reading instructional practices and closely aligned with four Reading Standards: Foundational Skills (K–5) from the Minnesota Academic Standards (MN Department of Education, 2010) and Career & College Readiness Standards for Adult Education (OCTAE, 2013):
RF.1. Demonstrate understanding of the organization and basic features of print. (Print Concepts)
RF.2. Demonstrate understanding of spoken words, syllables, and sounds (phonemes). (Phonological Awareness)
RF.3. Know and apply grade-level phonics and word analysis skills in decoding words. (Phonics and Word Recognition)
RF.4. Read with sufficient accuracy and fluency to support comprehension. (Fluency)
To download and print all or some of BATT, go to the Alphabetics page of the Reading Resource Library on the ATLAS website.
Note: Based on Summer Institute session feedback, test words were revised to be more consistent, and more online resources were added.
Marn Frank, Literacy & STAR Coordinator
ATLAS