Get Them Talking with Career Conversations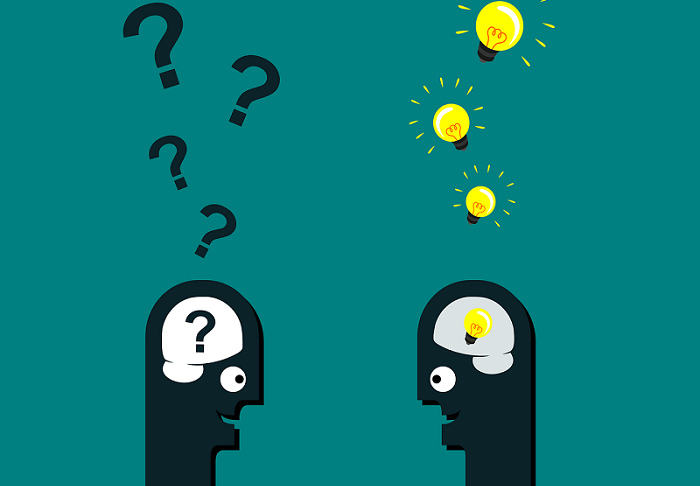 February 7, 2022
Get Them Talking with Career Conversations
Stephanie Sommers, ACES Coordinator
I recently learned that September is National Workforce Development Month, so it's a great time to think about ways that we can support our learners in reaching their career goals.
There are so many things to consider when helping learners plan for a future career that it can sometimes feel overwhelming. We need to provide opportunities for learners to identify their skills and interests, create a resume, research education and training options, and practice interviewing skills, just to name a few.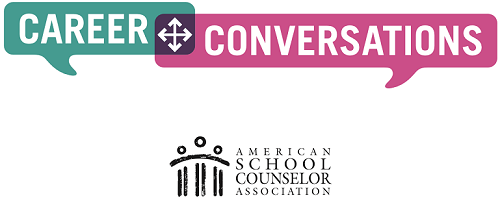 Since there are so many pieces to the puzzle, it's wonderful when you can find resources that help students to work on more than one of these skills at the same time. The Career Conversations toolkits from the American School Counselor Association is just such a resource. It is also the newest addition to the Developing a Future Pathway section of the ACES resource library.
Career Conversations overview
There are several Career Conversations toolkits, each with a specific focus. The choices include Elementary, Middle, or High School Career Conversations, Postsecondary Career Conversations, and Employer and Industry-Based Partners Career Conversations. Each toolkit is organized around various mind sets and behaviors that are strikingly similar to the categories in the Transitions Integration Framework (TIF). Learning strategies, self-management skills, and social skills (similar to effective communication) are all represented, and there are questions that align to each area.
These are a few sample questions from the Social Skills section of the Employer and Industry-Based Partners toolkit:
Describe a time when you were in a group that worked well together. What did you learn from that experience?
Describe a time when a group you were in did not work well together. What did you learn from that experience?
How do you usually contribute to working groups, and are there any things you need to do differently when you are working in a group?
The toolkit questions are rich and engaging, and they could be used in myriad ways with our adult learners. Here are just a few ideas:
Writing Prompts
Many of the questions would make excellent journal or reflection prompts for student writing. A question could simply be shared with the students, and then they could be given a set amount of time to respond. The questions address a wide array of topics, so they could easily be used in classes that are not work focused.
Depending on the level of student, the questions from the Elementary and Middle School toolkits could be used to have students engage in some metacognition around learning with questions like, "What do you tell yourself when an assignment or activity is hard?" Some of the questions would also be great for gathering student input for making programming decisions. Here is one example: "If you could create a new class at our school, what would it be?"
Mock Interviews
The questions in the and Industry-Based Partners Career Conversations toolkit in particular would be an excellent way to introduce students to "behavioral" or "situational" interview questions. Many of the questions in this toolkit come with some suggestions for what an "ideal response" might include. For those that don't have any "ideal response" suggestions, students could possibly provide some of this information before starting the mock interviews. This could be taken a step further by creating a simple rubric that each "interviewer" could use to assess the interviewee. This would also be a great activity to use with volunteers.
One-Question Surveys
A one-question survey is a great, low-prep activity for getting students talking. All of the students could be given the same question, or you can use a few different questions for larger groups. The students are given a piece of paper with a question written on it. They answer the question first for themselves, and then they must ask other students in the class for their answers. The students record the response on their papers. To add a little more rigor, I tell my students that they cannot write the same answer twice.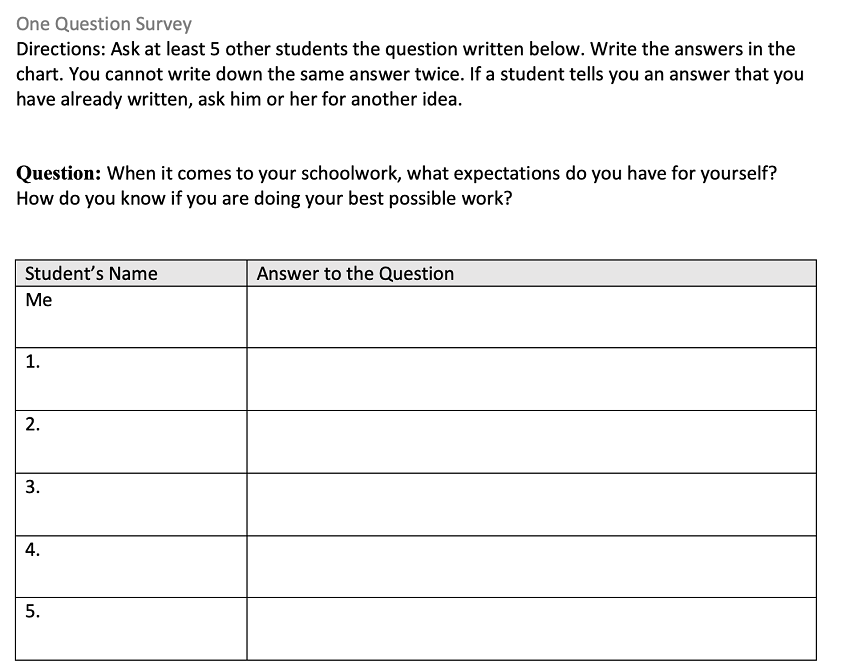 Once the surveys are complete, students could share their answers in a variety of ways, including creating a graph or chart to share the data.
Additional resources
If you are interested in getting more ideas for ways to bring ACES/TIF and our other sets of Minnesota ABE Content Standards into your instruction, please join us in November for a webinar that will look at combining ACES/TIF with CCRS. More information will be available soon on the ATLAS Events calendar, as well as in the MN ABE Connect newsletter.
If you are new to Minnesota ABE or just need an ACES/TIF refresher, please check out the ACES Foundations course that is available on the Schoology website. (You'll find instructions for joining on the ACES course page.) The course is free and self-paced. Upon completion of the required modules and submission of the final assignment, participants earn 6 CEUs.
Originally published 9/27/21
Stephanie Sommers, ACES Coordinator
ATLAS