More about Morpheme Matrices: Lessons for Longer Word Assembly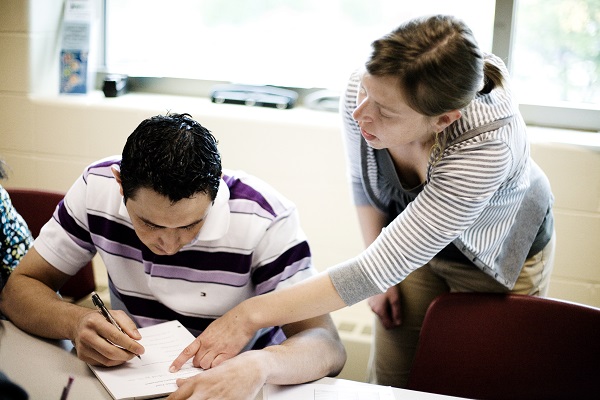 March 5, 2018
More about Morpheme Matrices: Lessons for Longer Word Assembly
Marn Frank, Literacy & STAR Coordinator
Last January, I wrote a newsletter article describing my initial investigation and development of Morpheme Matrices, 10 lessons for assembling morphemes (prefixes, Latin roots, suffixes) into longer words. Since then, I discovered more research support for teaching morphemes, collected MN ABE teacher experiences, and expanded Morpheme Matrices to include 24 lessons (more Latin roots and Greek forms)!
The newest research support is from a Journal of Learning Disabilities article called "Examining the Relationships of Component Reading Skills to Reading Comprehension in Struggling Adult Readers: A Meta-Analysis" (Tighe, E. & Schatschneider, C., 2016). This analysis of 16 adult literacy studies from the past 5 years determined 10 reading skills and their correlated relationships with reading comprehension. The research population included almost 3000 "struggling" adult readers with low literacy skills and without a diploma or GED. The study involved searching databases, scanning journals, coding studies and skills, identifying key reading skills, and calculating their average correlations and relationships with reading comprehension (see table below).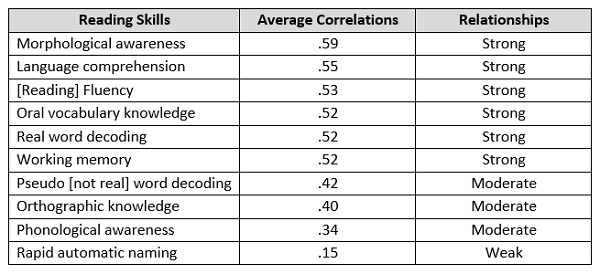 Much to my surprise, morphological awareness had the strongest correlation and relationship!
Cautious interpretation is advised due to the small number of studies and participants: however, I think this meta-analysis further supports teaching morphemes to Intermediate ABE and Advanced ESL readers. Knowing more of the common or high-frequency morphemes used in English can improve accurate word reading, word spelling, and word recognition. In turn, these word skills can benefit the text skills of reading fluency and reading comprehension.
In addition, I collected experiences from MN ABE teachers who used Morpheme Matrices during 2017. The positive reactions of their adult readers (both ABE and ESL) support learning morphemes.
"I tried a new alphabetics experience, Morpheme Matrices. Student feedback was very positive. It was refreshing to try something new. I'll continue to use this exercise periodically."
– Mary Elsenheimer, RAVE
"I used Morpheme Matrices with Low/High Intermediate, incarcerated felons at GE 4-8. It was a fun whole group activity. We were brainstorming, sharing, discussing, and creating words and sentences. This activity improved both alphabetics and vocabulary knowledge and made everyone more word aware."
–  Lynn Larson, DOC-Rush City
"I have a student who struggles with spelling. Using Morpheme Matrices has helped to enlighten her on some of the 'chunking' of English words and gave her another way to think of how words are put together. She is slightly more empowered or confident after her initial work with the matrices."
– Jamie Brummel, Minneapolis ABE
Heather Yee, Minneapolis ABE, uses morpheme matrices to deepen knowledge of taught academic vocabulary words. She selects one word per week and creates a matrix like below. Then she and her students create a word family: analyze=reanalyze, overanalyze, analyzes, analyzed, analyzing, analyzer, analysis*, analyzation, misanalysis*, misanalyses* (*spelling changes). Her students also enjoy using some of the word relatives in sentences.

Are you convinced – or at least curious about teaching morphemes?
If so, the 2018 version of Morpheme Matrices is available in the ATLAS website's Reading resource library, within the Alphabetics section (scroll down to "Morpheme Matrices" in the list of resources). I will also be presenting on this longer word assembly approach at the Metro ABE Regional on Friday, March 23 at Hamline.
Marn Frank, Literacy & STAR Coordinator
ATLAS