Using a Learning Management System (LMS): Coffee Break Takeaways
December 6, 2021
Using a Learning Management System (LMS): Coffee Break Takeaways
Heather Turngren, Minneapolis Adult Education Teacher / ATLAS Adult Career Pathways Coordinator
Using an LMS was one of the Coffee Break sessions at the recent ATLAS Fall 2021 ABE Conference: Still Here, Still Awesome! But what is an LMS?
A learning management system is often called an LMS for short, and it is a software application that provides the framework that handles all aspects of the learning process. It's where you can store, deliver, and track your instructional content.
The Using an LMS session allowed for a discussion among ABE professionals in an informal setting about the benefits of an LMS, LMS platforms used in ABE programs in Minnesota, and other topics.
Benefits of an LMS
The Coffee Break discussion touched on some of the advantages of using an LMS in the ABE classroom. Shared below are some of the benefits to students, teachers, and programs that participants discussed or highlighted.
An LMS supports…
guiding students to an easy transition to LMS platforms used in higher education institutions
sending notices, flyers, and messages to the whole class – particularly helpful during Covid-19
storing the class syllabus or calendar to help students' planning
providing more opportunities for student engagement
supplementing classroom instruction
creating, delivering, and gathering class content, including assessments
delivering asynchronous and synchronous learning – useful for TVM lessons
accessing class or course content in a more equitable manner
providing feedback on student learning
allowing for differentiated instruction and learning
LMS Platforms
Participants noted that some ABE programs have an LMS for the entire program and other programs may have a few teachers use their own free version of an LMS for their classroom. It's suggested that you first check with your program's IT/IS department to determine which program is best for your classroom.
Participants also had a few questions about the cost of an LMS. It is difficult to determine the cost of each LMS; however, the links included here should help you determine prices or request a quote. This newsletter article is not an indorsement of any particular LMS; below are a few platforms teachers shared and discussed:
Google Classroom is an LMS used by many who attended the Coffee Break. It is "… a free blended learning platform developed by Google for schools that aims to simplify creating, distributing, and grading assignments." [Source] Google Classroom is free with 100GB of storage and no limits on the number of users. Users will have to create their own content to use in Google Classroom.
Canvas is another LMS discussed in the Coffee Break. Participants enjoyed an impromptu virtual tour of a participant's math class in Canvas.  Canvas is an "open source LMS solution built to accommodate both K-12 and higher ed institutions." [Source] There is a Free-for-Teacher option that allows you to have 500MB of storage per course with limited support. Canvas allows users to both create their own content and to bring in shared content from other users.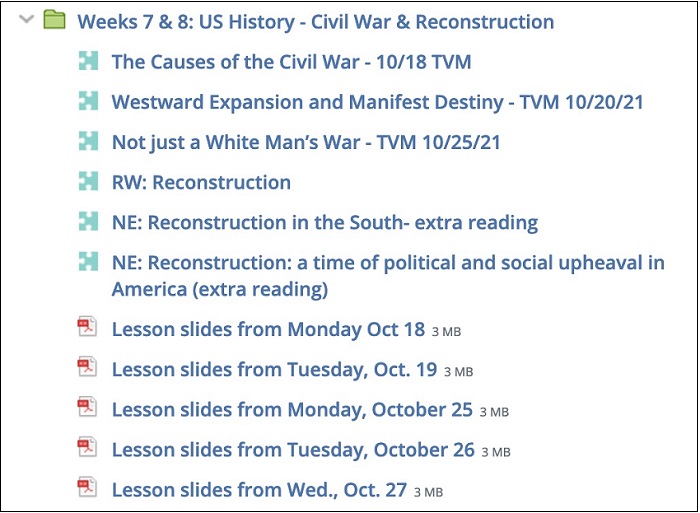 LMS Resources
Along with the links above, here are some other resources shared during the Coffee Break session:
Notes from the Coffee Break: The information discussed and shared during the Coffee Break session was recorded on a Padlet, which is an online bulletin board tool. In the Padlet, you can view what participants had to say as well as leave your own comments.
Teachers noted that using an LMS takes some effort up front to establish; however, the outcome is immeasurable for student learning, engagement, and success.
Heather Turngren, Minneapolis Adult Education Teacher / ATLAS Adult Career Pathways Coordinator
Minneapolis Adult Education & ATLAS