A Walk in My Shoes: Videos to Help Everyone Have a Place at the Table
August 8, 2022
A Walk in My Shoes: Videos to Help Everyone Have a Place at the Table
Stephanie Sommers, ACES Coordinator
Ahhhhhh summer. These long days seem to lend themselves to slowing down and finding time to take care of some of the little things that so easily fall through the cracks during the busy school year. In my role as ACES Coordinator, I recently found the time go through all of the resources in the ACES resource library to check for broken links.
I'm happy to report that just a small handful of the posted links needed to be updated, but completing that task also gave me a chance to step back and assess all of the wonderful resources that have been brought together over the past few years to support the teaching of ACES/TIF skills. Each TIF category has a robust and varied collection, and I can say that I feel proud of the work that has been done to make these resources available to ABE practitioners in Minnesota and beyond.
"A Walk in My Shoes" video series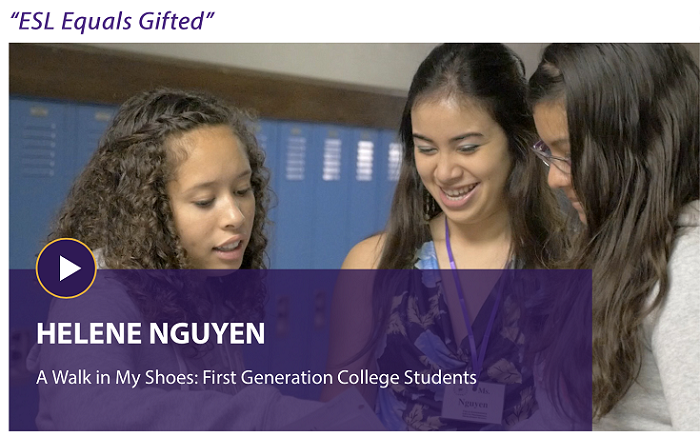 However, there is still more work to be done. One thing that I noticed as I was poking around in the resource library is that the Effective Communication (EC) category could use a little boost. As such, I will be actively trying to find more EC resources to share over the next few months, starting with a great one from Kansas State University's College of Education called "A Walk in My Shoes: First Generation College Students."
This documentary video series was shot in 2014 and features stories from five first-generation college students. The College of Education at Kansas State developed the video series "to create awareness about the diversity, the challenges, the opportunities and the benefits each student brings to campus" (Source: https://coe.ksu.edu/about/documentaries/a-walk-in-my-shoes/). Watching one or more of the videos would be an excellent way to begin a conversation about a number of important topics, such as the barriers that first generation college students face, the value of persistence, and the importance of "making room at the table" for diverse voices in educational spaces. Let's dive a little deeper into that third topic.
Diverse voices in educational spaces
For several years now, the principles of diversity, equity and inclusion (DEI) have been guiding many organizations as they strive to become stronger and healthier. These ideas are talked about in K-12 education, higher education, and workplaces. While these three words have found their way into many of our conversations over the past few years, it is worth thinking about what they each mean.
According to the National Cooperative Extension Foundation:
"Diversity is the presence of differences that may include race, gender, religion, sexual orientation, ethnicity, nationality, socioeconomic status, language, (dis)ability, age, religious commitment, or political perspective. Populations that have been-and remain- underrepresented among practitioners in the field and marginalized in the broader society."

The same resource defines both equity and inclusion. Equity is defined as "promoting justice, impartiality and fairness within the procedures, processes, and distribution of resources by institutions or systems. Tackling equity issues requires an understanding of the root causes of outcome disparities within our society."

Finally, inclusion can be thought of as "an outcome to ensure those that are diverse actually feel and/or are welcomed. Inclusion outcomes are met when you, your institution, and your program are truly inviting to all. To the degree to which diverse individuals are able to participate fully in the decision-making processes and development opportunities within an organization or group."

(Source: https://dei.extension.org/)
As ABE teachers, we know about the importance of representation. We decorate our classrooms with world maps and put pins in all the different countries from whence are students came. We organize potlucks and happily partake in the Sambusas, Larb, spring rolls, curries and tamales that our students share. We try to find texts that were written by or about people who look like our students and have shared some of their unique experiences. We work with very diverse populations, and we try our best to make them feel as if they have come to the right place when they walk through our doors.
Yet, we cannot ignore the fact that disparities exist. We know that many of our students became our students because of systems and institutions that have  not always valued equity, and we know that too many of these systems and institutions still exist.
This is why I love the "A Walk in My Shoes" video series. The students in the videos share stories of struggle and strength, from growing up in an immigrant family to losing one's parents to navigating racial identity. The thread that connects the different stories is that the students all found a way to navigate their various challenges and reach their goals.
Using "A Walk in My Shoes" in class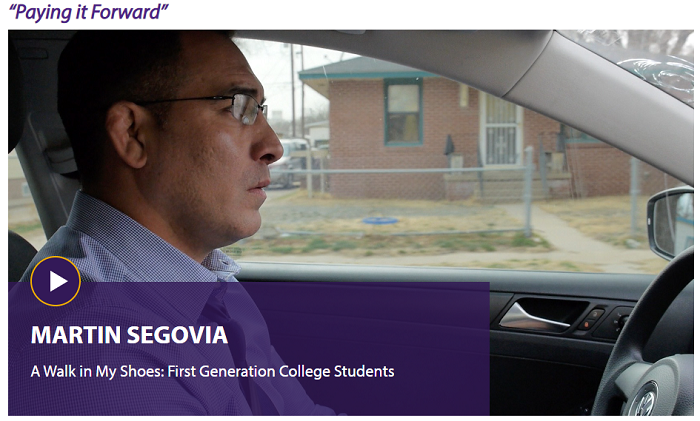 These students' stories are heartwarming, inspirational, and full of truth. I can easily imagine showing one of the videos, each of which is roughly 5-6 minutes long, and using it as a way to introduce a conversation or writing activity about any of the following topics:
Does our school/program do enough to help students succeed? What could we be doing better?
Who have been your role biggest models?
Who are the people in your life who have supported you the most?
Do you think about going to college? What would you like to study?
Do you see yourself as someone who could be successful in college? Why or why not?
What are the biggest challenges that you face when it comes to your education?
The first skill in the Effective Communication category of the TIF tells us that students should be able to engage positively and actively with individuals in both one-on-one and team settings to accomplish goals. In order to do this, students need to be able to acknowledge and affirm others (regardless of culture, religion, gender, age, sexual orientation) and their contributions. The ability to acknowledge and affirm others hinges on being open to learning about what makes us different and how we are the same. In other words, it's about being able to walk in someone else's shoes. These videos are a great way to start that journey, for you and your students.
Stephanie Sommers, ACES Coordinator
ATLAS