CCRS Resources: Start the New Year Right! – Part 2
January 14, 2022
CCRS Resources: Start the New Year Right! – Part 2
Lindsey Pust, Numeracy & Special Projects Coordinator
There have been so many CCRS webinars, tools, and activities developed over the years, it is sometimes hard to remember the plethora of FREE resources housed on the ATLAS website. Below is a compiled list of many of our prominent CCRS resources – all in one place! Whether you are looking for professional development to complete individually, a PD activity to dive into with a small group/PLC, or the next task to engage in during a regular staff meeting, you're sure to find some gold nuggets below!
Part 1 of this article highlights free instructional resources from ATLAS. Part 2 explores free program implementation resources as well as free webinars archived on the MN ABE Professional Development YouTube Channel.
---
Free Program Implementation Resources from ATLAS
CCRS in Action PLC
The CCRS in Action PLC is a "light" version of the CCRS Implementation Cohort that includes a facilitation guide, Google Slides presentations, and all accompanying materials needed to lead the PLC in your program – for ELA, Math, or both. The PLC uses the same tools for instructors to practice analyzing lessons, units, instructional tasks, and resources that are used in CCRS Cohort. There are many opportunities to customize the PLC to fit the needs of your program. It was designed for eight 90-minute meetings, but can be adjusted to fit your needs.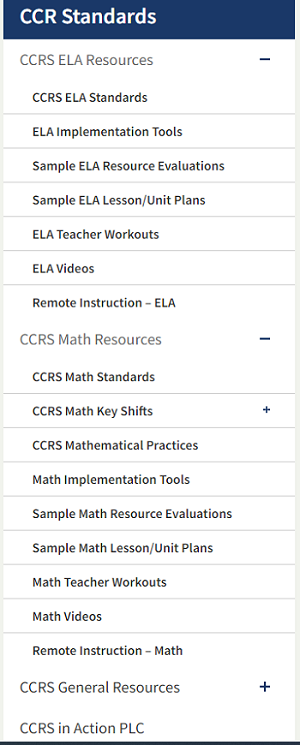 Tools for CCRS Program Implementation
Use these tools to evaluate, guide, and plan ongoing CCR standards implementation within your local programs. Continue scrolling to access the sample completed tools for reference and examples of how other programs have filled these out.
Math Teacher Workouts | ELA Teacher Workouts
Use these math and ELA workouts in existing staff meetings/PLCs, with a colleague, or independently. CCRS Teacher Workouts are focused, fast, and designed to support ABE staff with CCRS implementation.
Each workout takes between 20 and 45 minutes and focuses on a key CCRS shift, standard, or practice. Workouts include goals, a warm-up, practice, and a wrap-up.
Glossary of Terms
This glossary contains general, ELA-specific and math-specific terms to help you with your CCRS implementation and support of colleagues in your program. This resource also includes some terms specific to the ELA and math shifts.
CCR Standards Resources – Library
Check out the CCR Standards resources library, which houses all of the resources mentioned above, and more!
Free Webinars on MN ABE Professional Development YouTube Channel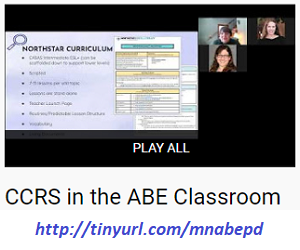 MN ABE's homegrown channel on YouTube (http://tinyurl.com/mnabepd) is full of great videos featuring MN teachers, learners and PD providers. For excellent free webinars about topics related to CCRS implementation and instruction, be sure to check out the CCRS in the ABE Classroom playlist. Webinars include:
Introduction to Standards Based Education in MN ABE
Making Thinking Visible: Clearing a Path to the Standards
Get Them Talking! Promoting Classroom Conversations
Incorporating Formative Assessment Into Lesson Planning
It Takes a Village to Navigate a Pandemic (and ALL 3 Sets of Standards!)
CCRS at a Distance: Seriously?!
They've Got This – Fostering Independent Learners
Close Reading and CCRS – Unpacking a Visual Text
Teaching Them to Fish: Using ACES/TIF to Support CCRS Instruction
Northstar and CCRS: Cheers for Collaboration!
Lindsey Pust, Numeracy & Special Projects Coordinator
ATLAS