Check Out What's New in the Antiracism in ABE Resource Library!
September 12, 2022
Check Out What's New in the Antiracism in ABE Resource Library!
Cydnee Sanders, Library Curator
Hey y'all! It's been a while since we updated you on the Antiracism in ABE resource library on our website, so let's take a look at what's new!
But first…
What is the Antiracism in ABE resource library?
Through the work of curator Yixiu Chen, ATLAS unveiled its new online Cultural Competency resource library in October 2020. Our hope was (and is) that this library will be a useful resource for those working in the field of Adult Education to build on their knowledge and ability to implement antiracist practices, LGBTQ+ inclusion, and trauma-informed practices in their classrooms and programs.
My name is Cydnee Sanders, and I will be continuing Yixiu's work by updating the section of the library called Antiracism in ABE. Some of y'all may recognize my name from the Antiracist Praxis Study Circle, which I have done twice now with ATLAS and is based on my research at Hamline University. I am very excited to share resources that I have learned about with y'all!
Library structure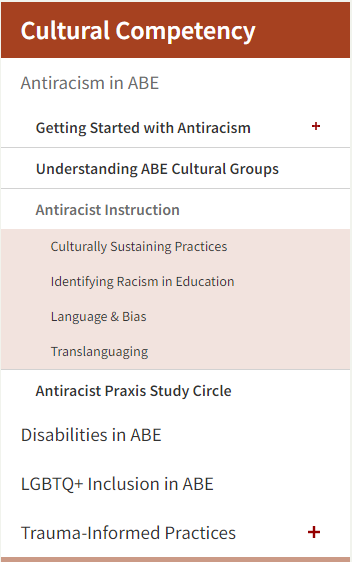 In order to help you find specific resources, the library is organized into several main topics, categories and subcategories. For example, under Antiracism in ABE you will find four categories, two of which have additional subcategories (click on the plus signs to expand them).
This summer we have been working to revamp the Antiracist Instruction category, since we know teachers are looking for specific things to use in their classrooms. Though antiracist teaching requires deep reflection and constant expansion of our knowledge of culturally responsive practices and how to recognize racism in education, we know it's helpful to move theory into practice when we can see some examples too. Hopefully the new resources added will give you a place to start! Find out more about a couple of key new resources below!
Keep in mind that you can also search for resources by using the search function found at the top of all resource library pages. This search tool allows you to filter your results by several different criteria.
You can:
choose from defined lists of Topics (tags) and Types (such as Classroom Activities, Lesson Plans, Videos, and so on);
narrow your search to a specific library; and also
search by keyword(s).
New resources of note
Minnesota Adult Education resources
The first exciting addition is that some of the new resources include presentations by our own Minnesota Adult Education community members because we believe in highlighting the important work our community is already doing. For example, under the subcategory Culturally Sustaining Practices you'll find a resource called Culturally Responsive Practices and Participatory Instruction in ABE, which is a two-part series presented by Yixiu Chen and Erin Cary. Part 1 delves into what culturally responsive teaching is, while Part 2 describes Erin's Participatory Curriculum Unit Design Tool, which is also linked in the Culturally Sustaining Practices subcategory. You will learn about many tangible tools to try in your classrooms.
Videos for busy educators!
The second exciting addition is that many of the other new resources are videos, in the hope of making new information more accessible for busy educators. We hope to continue to add a variety of media of resources.
For example, under the subcategory Language & Bias you'll find a resource called Embracing Multilingualism and Eradicating Linguistic Bias, which is a TED Talk by Karen Leung. As adult English educators, it is important for us to understand the language and accent discrimination learners face, and also to advocate in our communities to end this discrimination. Leung discusses this very fact and gives anecdotes of the discrimination she and her family have faced while learning English after moving to the US.
Translanguaging resources
And the final new addition is a subcategory called Translanguaging, which has been an increasingly popular area of research and practice in our field. There you will find several new resources, including one called Translanguaging in 15 Minutes which is actually two videos by Mike Mena.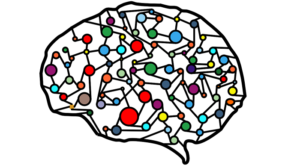 Any of us who have heard of translanguaging know it takes some real brain power to decipher this new way of looking at languages. Translanguaging scholars ask us to look past the idea of languages as separate entities and acknowledge that from a multilingual speaker's perspective, there is only one language tool box in the brain.
In these two helpful videos, Mike Mena breaks down the theory of translanguaging, which is often confused for code switching, to help us rethink the way we view the hierarchies of languages in the US. These videos are a great place to start if you're new to translanguaging; or even for those more familiar with the idea, it's a great refresher to make sure we are understanding this revolutionary theory.
Have a resource to recommend?
Resources are being continually added to this library, so if you have recommendations for resources or would like to see more resources in a particular area, please feel free to reach out to Cydnee with your suggestions at sanders.cydnee@gmail.com.
Have questions about navigating the ATLAS website?
Please contact ATLAS Operations Manager Marisa Geisler at mgeisler02@hamline.edu.
Cydnee Sanders, Library Curator
ATLAS