Developmental Word Study: Part 1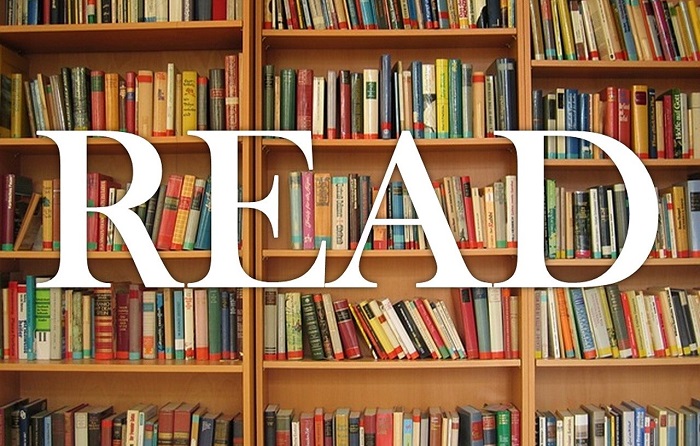 December 7, 2020
Developmental Word Study: Part 1
Marn Frank, ATLAS Literacy & STAR Coordinator
Kristine Kelly, ATLAS Literacy & ELA Coordinator
During October and November, the University of Minnesota's Center for Reading Research (MCRR) hosted a series of five webinars focused on developmental word study. This article begins by summarizing the keynote presented by Dr. Donald Bear, Professor Emeritus in Literacy Studies and co-author of the Words Their Way™ series. It continues with characteristics of Emergent and Beginning Level Readers and a variety of ideas and resources for remote instruction from MCRR faculty, ATLAS staff, and MN ABE teachers. A second article will share characteristics, ideas, and resources for teaching Transitional and Upper Level Readers. Although the MCRR webinar series was focused on K-12 literacy, both articles are intended for adult literacy practitioners.
Dr. Bear describes developmental word study as the integration of three layers:
phonology or alphabetic pattern knowledge
orthography or spelling pattern knowledge
morphology or word meaning knowledge
An intentional weaving of word reading, spelling, and meaning study not only builds more automatic word recognition, but also reading and writing fluency and text comprehension. He recommends modeled and guided word sorting, an analytical instructional approach where students apply known or taught patterns to identify unknown patterns; thus, they learn new or unfamiliar "words their way."
The table below displays Dr. Bear's four stages of developmental word study or his "Synchrony of Literacy Development" and K-12, NRS, and approximate CCRS Levels.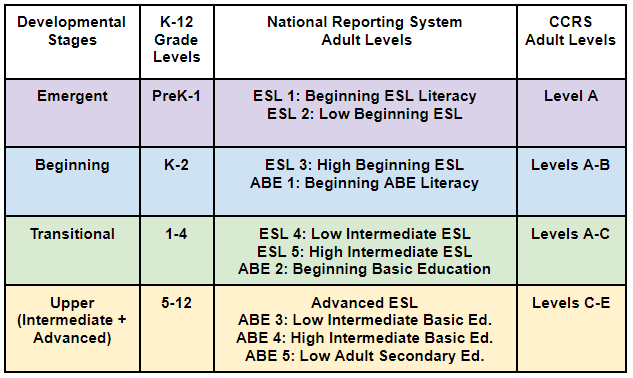 ---
Emergent Level Readers
Emergent Level Readers may need Print Concepts, the visual skills connecting spoken to written language: left>right, top>bottom, page>page, letters=words, words=sentences. They may also need Phonological (or auditory) Awareness of English sounds, syllables, and words. They can recognize simple words from their environment but need to learn all 26 Roman alphabet letter names, forms, and single sounds, and how to read and spell 3-letter words.
From MCRR:
From ATLAS/MN ABE:
---
Beginning Level Readers
Beginning Level Readers can read simple texts and are ready to expand their phonics knowledge to include consonant digraphs (ck, ch, sh, th, wh), long vowel-silent e, consonant blends (bl, br, cl, cr, dr, fl, etc.), and long vowel teams (ai, ay, ea, ee, oa, etc.). They will spell more words correctly as their phonics and vocabulary knowledge develops.
 From MCRR: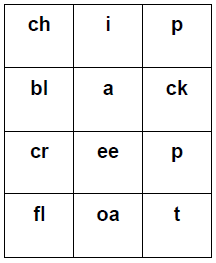 From ATLAS/MN ABE:
Stay tuned for Part 2 of this article, being published in the December 15 edition of MN ABE Connect!
Check out Part 2 of this article, where we explore characteristics of, and resources for, Transitional and Upper Level Readers!
Marn Frank, ATLAS Literacy & STAR Coordinator
ATLAS
Kristine Kelly, ATLAS Literacy & ELA Coordinator
ATLAS