Using Culips to Increase Listening Comprehension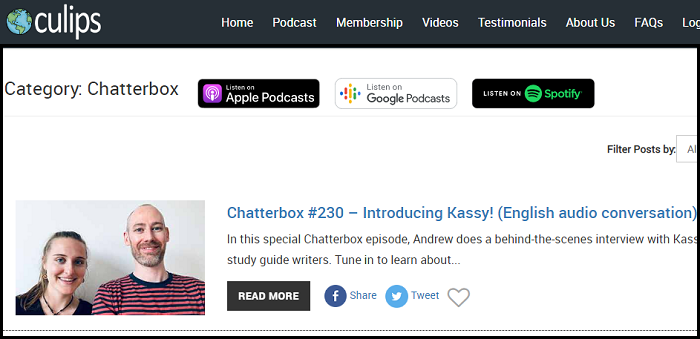 April 16, 2018
Using Culips to Increase Listening Comprehension
Stephanie Sommers, ACES Coordinator
At a very basic level, effective communication hinges on being a good listener. This means being actively engaged in the listening process and being able to comprehend what is being said. The comprehension aspect can be a challenge, especially for non-native speakers of English. This is in part because a typical conversation that our students might hear on TV, on the radio, or out on the street contains slang, idioms, and other informal expressions that are often unfamiliar to them.
The Culips website (culips.com) was designed to help students "learn conversational English for everyday use" by offering a large variety of engaging audio episodes, and it is the newest resource to be added to the Effective Communication section of the ACES resource library.
I have been using the Culips website in my high intermediate Listening and Speaking class all year with great success. The website is free and does not require you to create a user account in order to access the basic content. This includes four varieties of podcasts:
Chatterbox Episodes
Catch Word Episodes
Simplified Speech Episodes
Real Talk Episodes
In my classes, I have mostly used the Chatterbox and Catch Word Episodes with my students. The Chatterbox Episodes involve two people having a conversation at a natural speed. In my class, I have used episodes related to ideas about where our personalities come from (Culips Chatterbox Episode 101), an interview with an immigrant woman who wrote a book to help other immigrants learn English (Culips Chatterbox Episode 168), and healthy eating, among others.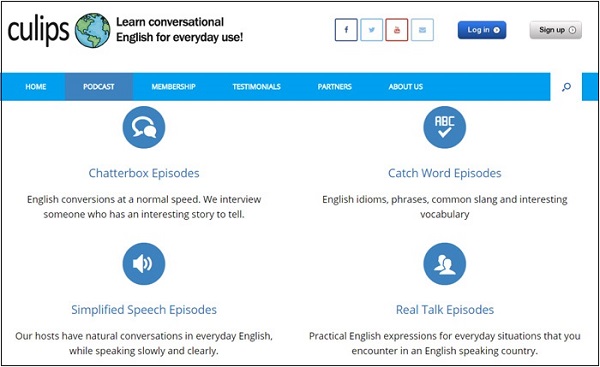 Becoming a member of Culips unlocks additional resources, such as a full transcript of the audio, more detailed information about the vocabulary used in the episode, and a quiz. Since I am not a member, I generally just preview an episode as part of my lesson planning. I take notes while I listen, and then I use my notes to create questions for my students to answer. In general, it takes me about 20-30 minutes to create an hour-long lesson that uses Culips.
Since I've enjoyed the Chatterbox episodes so much, I recently also started using the Catch Word Episodes. For these episodes, the hosts choose a word or phrase and talk about what it means. Here are some examples of phrases they have focused on:
I'm from the sticks.
It's water under the bridge.
They're well off.
I'm just spitballing here.
One of the things I like about the podcasts on Culips is that the hosts have a lot of energy and they are fun to listen to. Another benefit of using podcasts in the classroom is that the content is usually fresh and current. In the episode we listened to about healthy eating, for example, the hosts discussed the raw food and local food movements, which are things our students might hear about while visiting a local farmer's market or co-op. There is also a lot to choose from on the Culips website, and the search tool works well.
One small drawback is that the podcast is produced in Canada, so some of the examples that the hosts use might be unfamiliar to students in the U.S. However, the hosts seem aware of the fact that they have listeners from outside of Canada, and they do a good job of making their episodes feel relevant to listeners from all over North America and beyond.
Originally published 6/5/17
Stephanie Sommers, ACES Coordinator
ATLAS